Morneau providing Gold Glove-caliber defense
Morneau providing Gold Glove-caliber defense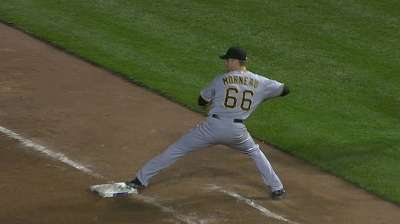 CINCINNATI -- Justin Morneau's Silver Slugger hasn't yet shown up, but his golden glove has had a tremendous impact on the Pirates since his Aug. 31 acquisition from Minnesota.
That's lower case "golden," because the first baseman hasn't earned any Gold Gloves for defensive play during his 11 Major League seasons. However, Twins manager Ron Gardenhire's report to good buddy Clint Hurdle that Morneau's defense will open some eyes has borne out.
"He has definitely brought an edge to everything he does," said Hurdle. "He's a blue-collar guy, no flash, not a lot of style, not the range to knock your socks off."
Sounds like Morneau fits in perfectly with what shortstop Clint Barmes last year branded the Pirates' Vanilla Infield, for its lack of pizzazz while making all the plays.
"Defensively," Hurdle added of Morneau, "he's made more than a handful of plays that made you go, 'Wow.'"
There was a sequence of those in the ninth inning of the Pirates' postseason-clinching victory on Monday in Chicago, which Hurdle called "as sharp an inning as I've ever seen a first baseman have defensively."
It was punctuated by a play Andrew McCutchen likened to Derek Jeter's classic "flip play." In Game 3 of the 2001 American League Championship Series, the Yankees shortstop materialized to the right of home plate to retrieve an errant throw from the outfield and his flip to catcher Jorge Posada nailed Jeremy Giambi to help the Bombers to a 1-0 win and start them toward a comeback from an 0-2 deficit to the AL pennant.
On Monday night, with the Bucs trying to hold onto a 2-1 lead, Morneau picked up a loose ball in front of the mound and his flip to catcher Russell Martin nailed Nate Schierholtz for the game-ending out.
Hurdle installed Morneau as his cleanup hitter against right-handed pitchers, and Hurdle is sticking with that even though Morneau is hitting .260, with no homers and three RBIs in 24 games with the Bucs.
Tom Singer is a reporter for MLB.com and writes an MLBlog Change for a Nickel. He can also be found on Twitter @Tom_Singer. This story was not subject to the approval of Major League Baseball or its clubs.