Loss forces Reds to play NL Wild Card Game on road
Loss forces Reds to play NL Wild Card Game on road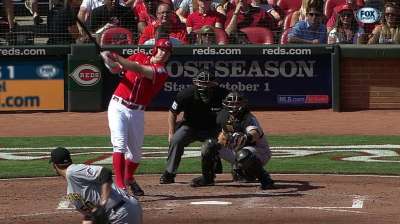 CINCINNATI -- In what could have been Bronson Arroyo's final start with the Reds, there was no time on Saturday for sentimentality. His team needed a big outing, and more importantly, a win.
The Reds got neither. Arroyo was clobbered for five of Pittsburgh's six home runs and his offense missed some key opportunities during an 8-3 defeat. It was revealed after the game that Arroyo was bothered by back soreness.
"It felt like a rib was out of place. It still does," Arroyo said. "I don't think it affected the game that much. To be honest with you, I wasn't that comfortable out there. But you just can't get away with leaving balls in the zone as much as I did in a ballpark as small as this is with a lineup like they've got over there. It was definitely poor location."
Location is a key word of the day, because the two teams now have one for their National League Wild Card Game showdown on Tuesday. It will be PNC Park.
Cincinnati, which has four straight losses and a 90-71 record, needed wins on both Saturday and Sunday to take the season series tiebreaker with the Pirates to host Tuesday. That's not happening now. The 93-68 Bucs are leading the series by a 10-8 margin and have clinched the first Wild Card spot.
"We just keep playing," third baseman Todd Frazier said. "Bottom line is, we didn't do our job here to get home-field advantage, but at the same time, we're in the playoffs, so nothing to be upset about. We'll just win that game and come back here and get a couple games at home and get these fans rocking again."
When the day started, Arroyo was second in the NL in homers allowed with 27. He quickly zoomed to the top of the pack by allowing a career-high five home runs in the game.
Arroyo was one strike from getting out of the third inning clean until Neil Walker hit his 3-2 pitch to center field for his first homer of the day. Two pitches later, Andrew McCutchen sent an 0-1 offering to center field for back-to-back homers and give Pittsburgh a 2-0 lead.
The Reds, who went 2-for-12 with runners in scoring position and stranded 11 on base, left the bases loaded in the first inning against Charlie Morton. They rallied again in the third after Shin-Soo Choo led off being hit by a pitch and Joey Votto walked on four pitches. Brandon Phillips rolled an RBI single through the right side. Jay Bruce lifted an opposite-field drive off the top of the left-field wall for a two-run double that gave Cincinnati a one-run lead.
It was a very short-lived lead. On the first pitch in the top of the fourth, Pedro Alvarez moved into a tie for the NL homer lead with 36 when he cleared the fence in right-center field.
With one out in the fifth, Walker hit the first pitch to the berm in center field for a solo blast and the first multihomer game of his career.
"It was good to get the team on the board early," Walker said. "But you don't feel safe until the last out in places like this."
Two batters later with a runner on first base and two outs, Arroyo's 2-2 pitch was smoked to left-center field by Marlon Byrd for a two-run homer and 6-3 Pirates lead to bring out the boos from the sellout crowd of 40,707.
"We had [reliever Sean] Marshall ready for Alvarez, but we couldn't get anybody loose quickly enough for Byrd," Reds manager Dusty Baker said. "It's not fantasy baseball. You have to give these guys a chance to get loose and you can't have somebody ready all the time. You'll just run through your whole bullpen."
That finished Arroyo's line at six earned runs and eight hits allowed over 4 2/3 innings with one walk and two strikeouts. He finished with a 14-12 record and 3.79 ERA in 32 starts. His 202 innings pitched gave him at least 200 innings in eight of his past nine seasons.
The longest-tenured member of the Reds, Arroyo still received some polite applause after being taken out after Byrd's homer. At 36, Arroyo can be a free agent at season's end when his three-year, $35 million contract expires.
"It crossed my mind," Arroyo said. "I would have loved to walk off the mound with a lead. It's baseball. Every day, you don't know what you're going to get. Today, those guys put on a good show."
The Reds had a chance to stay in the game when loading the bases with one out in the fifth inning against Morton. Reliever Vin Mazzaro worked out of the jam by striking out Zack Cozart before Ryan Hanigan's deep fly to right-center field was tracked down by McCutchen.
In the top of the sixth with two outs, Pittsburgh got its sixth homer of the day when pinch-hitter Andrew Lambo hit a 1-0 pitch from Logan Ondrusek into the right-field seats. The six homers by a Reds opponent tied a Great American Ball Park single-game record.
Meanwhile, the Reds lineup went hitless over the final four innings.
Arroyo, like the rest of his team, now looks past Sunday toward the start of the postseason on Tuesday. The deeper in the playoffs the Reds can go, the more chance Arroyo might get to pitch again. His postseason rotation was murky for the first round.
"Years go by quick," Arroyo said. "I've been here eight years and it definitely will be strange if this is my last start. Hopefully not. We go to Tuesday and we've still got life just as much as they do."
Mark Sheldon is a reporter for MLB.com. Read his blog, Mark My Word, and follow him on Twitter @m_sheldon. This story was not subject to the approval of Major League Baseball or its clubs.