Deep impact: Happ, homers down Tampa Bay
Deep impact: Happ, homers down Tampa Bay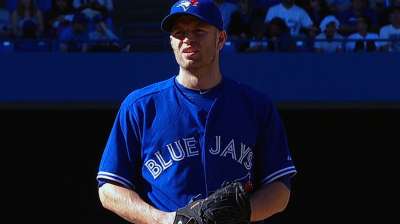 TORONTO -- The Blue Jays won't be playing during the month of October as it had been predicted last winter, but they still have a major say in which teams will be taking that next step.
Toronto seems to have embraced the role of spoiler during the final week of the year. The club headed into a weekend series against the Rays with the hope of derailing the season of its division rivals, and with one game remaining, that goal is still very much alive.
Left-hander J.A. Happ delivered another serious blow to the Rays' chances of making the postseason by pitching 7 1/3 strong innings while rookies Ryan Goins and Kevin Pillar both went deep to secure a 7-2 victory on Saturday afternoon at Rogers Centre.
"We've been playing good baseball all month," Blue Jays manager John Gibbons said following Saturday's win. "We haven't been winning a lot of games necessarily, but we've been playing some good games. It's a good way to finish it, we'd like to come back and get one more win tomorrow, and that's what it's all about."
The Blue Jays' victory combined with a Rangers' win on Saturday afternoon resulted in Texas and Tampa Bay being tied in the Wild Card race. That prospect seemed unlikely just a couple of days ago, when the Rays held a two-game advantage over Texas.
Toronto quickly changed all of that, and almost all of the credit goes to the pitching staff. Knuckleballer R.A. Dickey allowed just two runs over 7 1/3 innings in a win on Friday night, and Happ followed with an equally impressive outing less than 24 hours later.
The Blue Jays' starting staff has proven to be its biggest weakness this season, but regardless of the previous struggles, the Rays are finding out there's enough potential to cause major issues and wreak havoc at the most inopportune time.
"We've faced two good pitchers the past two days," Rays manager Joe Maddon said. "Dickey's not bad, he won the Cy Young last year, and Happ really threw the ball well today. So from that respect, we have faced good pitching. You have to give them credit for that, too."
The only blemish for Happ came in the first when he surrendered a leadoff double to Ben Zobrist. The Rays took a 1-0 lead two batters later, when Wil Myers singled to left. That was the end of the positive news for Tampa Bay as Happ went on to retire 11 consecutive batters between the second and fifth innings.
Happ left the field to a standing ovation with one out in the eighth. He was charged with just one run on five hits while striking out four. That capped a strong finish for Happ, as he allowed three runs or fewer in each of his final three starts.
The improved results line up with a recent change in Happ's mechanics. The native of Illinois lowered his arm slot by a few inches and now doesn't come over the top quite as much during the throwing motion.
It's a simple adjustment, but one that has led to better location. It's something Happ will continue working on during the offseason and into next year's Spring Training.
"I think it has helped with my command with it being more consistent, the ball is coming out a little bit better, and the best thing is it doesn't feel like as much effort," said Happ, who finished with a 5-7 record and 4.56 ERA.
"I was really grunting and feeling like I was giving 100 percent, trying to get the ball where I wanted it. This arm slot allows me to be a little more free, a little more smooth and it has allowed me to be more comfortable."
Designated hitter Adam Lind dealt the early blows as he had a pair of singles in the third and fourth innings to drive in three runs. Toronto broke things open in the fifth, when Goins and Pillar each recorded a pair of two-run homers to give the Blue Jays a six-run lead that was never threatened.
Maddon tried to pull out all the stops as he removed starter Chris Archer from the game after just 2 1/3 innings in a 1-1 ballgame. Maddon opted to use a series of relievers to try to get through the game, but the move backfired. The Rays are faced with what should turn into a must-win game on Sunday.
The Blue Jays will send right-hander Todd Redmond to the mound for that final showdown against left-hander Matt Moore. It's a rather fitting conclusion, considering Redmond grew up a Rays fan in the St. Petersburg region of Florida.
"I've had a few texts already," Redmond said when asked if he's receiving grief from friends back home. "My buddy texted me earlier and said that he's getting some people that are calling, saying not to do so good. But he told me to go out there and beat them, send them home. So I said, 'That's what I'm going to try to do.'
"I'm going to go out there and treat it like every other start. It's the last game of the year, and we have a chance to win the game, and that's how I'm going to treat it."
Gregor Chisholm is a reporter for MLB.com. Read his blog, North of the Border, and follow him on Twitter @gregorMLB. This story was not subject to the approval of Major League Baseball or its clubs.