Angels commit season-high five errors in loss
Angels commit season-high five errors in loss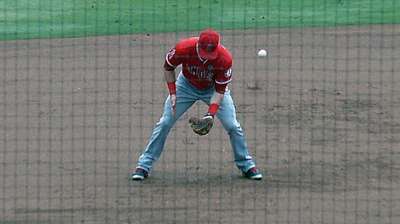 ARLINGTON -- All that positive momentum the Angels built over the last five weeks has come to a screeching halt in the place that hasn't been too kind to them for quite some time. The Angels arrived at Rangers Ballpark on Thursday with a chance to finish the season with a .500 record, crush the postseason hopes of their division rivals and prove once and for all that they're a different team as they venture into the offseason.
One walk-off homer, an assortment of slippery baseballs and five errors later, all they can hope to do is avoid a season-ending four-game sweep.
"We're going to try to come back tomorrow and beat these guys," starting pitcher Garrett Richards said, "and hopefully end the year on a positive note."
Saturday's game started a lot earlier than usual, and it felt as if the Angels were never really awake for it.
They committed five errors, all within the first five innings, and dropped their seventh consecutive game at Rangers Ballpark with an ugly 7-4 defeat amid scattered showers, their last three outs coming under a ninth-inning downpour. With six straight wins, the Rangers (90-71) moved into a tie with the Rays for the second American League Wild Card spot.
The five Angels errors, committed by five different players, is the most since Sept. 16, 2006, also at Rangers Ballpark, and was one shy of the club record, done in 1963 and '75.
"You can't sugarcoat the way we played defense," said Angels manager Mike Scioscia, his team 78-83 despite winning 23 of its last 35 games. "It was brutal. And just silly mistakes. And it cost us. I think that's the story of this afternoon."
The game was played in the afternoon to avoid the showers that began in the top of the ninth, when Josh Hamilton hit a pinch-hit double, Mike Trout walked and Howie Kendrick struck out against Joe Nathan to end the game.
"I wish I would have had a surfboard," Rangers shortstop Elvis Andrus said. "I couldn't see anything."
Saturday's game was originally scheduled for 7:05 p.m. CT local time. On Friday morning, it was moved to 11:05 a.m. CT, the earliest the Angels have started a game in six years.
To Scioscia, that was no excuse for the sloppy defense.
"It's got nothing to do with it," he said. "These guys were ready to go. It's like a normal day-night game. We've had 12:30 starts at home. You're talking maybe an hour and a half difference from where you might start an afternoon game at. These guys might be tired from playing a lot, and a long season, and everybody's going to be a little bit tired out there. Texas made four errors the first game in the [second] inning, and they overcame it. It wasn't because of the start time. We just played poor baseball this afternoon. That's what we did."
With Ian Kinsler on third and one out in the first, third baseman Andrew Romine saw a hard grounder by Alex Rios go right under his legs to plate the Rangers' first run. With runners on second and third and one out in the second, Richards took a Kinsler comebacker to the ribcage, picked up the ball, fired to first and watched it squirt by Mark Trumbo's glove to bring in a second run.
Erick Aybar then made a diving stop on Andrus' grounder and overthrew second base, bringing in another run and putting two men in scoring position. After a Rios sac fly, Richards uncorked a wild pitch to give the Rangers a 5-1 lead after two innings.
The Angels made it a one-run game in the fifth by plating two runs, on an RBI groundout by Collin Cowgill and a double by Kendrick. But the Rangers added two more in the bottom half, when A.J. Pierzynski hit an RBI single to left field, moved to second after it was bobbled by Cowgill and eventually scored on a bunt single from Craig Gentry.
"Those things are going to happen," said Richards, who lasted 4 1/3 innings and was charged with six runs (three earned). "As far as being a pitcher who has kind of matured over the last year, and trying not to let those thing blow up, and trying to minimize damage and keep a clear thought process out there -- that's all I was trying to do. Moving on to the next pitch."
Richards had a 2.90 ERA in his first 11 starts since taking Joe Blanton's place in the rotation in late July. In his last two outings of the regular season, though, the 25-year-old right-hander has combined to give up 13 runs (10 earned) in nine innings, finishing 2013 with a 4.16 ERA in 145 innings.
"This isn't the way I wanted to end the season," Richards said, "but I learned a lot this year. I made some big strides this year. I'm going to carry it on into next year."
Alden Gonzalez is a reporter for MLB.com. Read his columns and his blog, listen to his podcast and follow him on Twitter. This story was not subject to the approval of Major League Baseball or its clubs.