Sabean would repeat Zito deal with no regrets
Sabean would repeat Zito deal with no regrets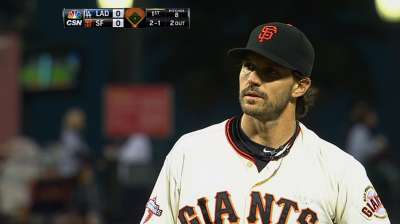 SAN FRANCISCO -- Though Barry Zito's contract may have seemed like a symbolic albatross during most of his San Francisco tenure, Giants general manager Brian Sabean said Friday that he had no regrets over the deal the club gave the left-hander.
Zito, then a free agent, signed with the Giants for seven years and $126 million. At the time, it was the most lucrative contract received by a pitcher. Zito proceeded to post a 63-80 record with a 4.62 ERA for the Giants while finishing over .500 only once.
That lone winning season happened to be 2012, when Zito went 15-8 and won two notable games in the postseason -- Game 5 of the National League Championship Series at St. Louis, with the Giants facing elimination, and Game 1 of the World Series against Detroit ace Justin Verlander.
That was what stuck with Sabean.
"As crazy as this sounds, if I had to do it over again, I would have done what we did to sign Barry Zito," Sabean said Friday during his annual season-ending summary. "We learned a lot from his time here, and our pitching staff has. And, quite frankly, when we needed him the most, he helped us win the World Series. I find great satisfaction and solace in that. He's a great person; he was a great professional in a Giant uniform, and he's going to be missed for a while."
Giants manager Bruce Bochy has said that Zito, who is 5-11 with a 5.75 ERA this year, will most likely make a relief appearance during this weekend's series against the San Diego Padres.
The Giants will decline to pick up the $18 million option for 2014 on Zito's contract, though the move is not yet official. Zito then will receive a $7 million buyout.
Chris Haft is a reporter for MLB.com. This story was not subject to the approval of Major League Baseball or its clubs.