Felix hits 200-inning mark for sixth straight season
Felix hits 200-inning mark for sixth straight season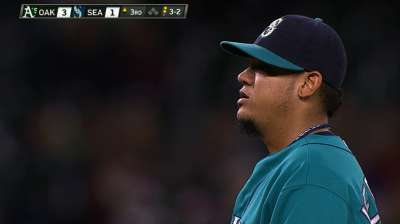 SEATTLE -- On the day Eric Wedge announced he wasn't coming back to manage the Mariners next season, Felix Hernandez -- the one Seattle player under contract beyond 2014 -- wound up making a statement of his own in a game his team lost, 8-2, to the playoff-bound A's at Safeco Field.
Though the Mariners are playing out the string with a 70-90 record and Hernandez had thrown just four innings since returning from a 20-day layoff with a strained oblique, the team's ace wanted to pitch one last game and get to 200 innings for a sixth consecutive season.
And despite giving up a three-run homer to Brandon Moss in the first Friday night, Hernandez dug in and wound up pitching six frames with just the three runs on five hits, finishing at 204 1/3 innings and once again giving the Mariners a chance to win if they could have produced some offensive support and bullpen relief.
"It's important to try to finish strong," Hernandez said. "I just tried to get a win. I was all over the place that first two innings. I was not getting ahead of hitters. That was not me. Then after that, I just tried to throw strikes and finish off hitters."
Like most of his teammates, Hernandez was a bit stunned by Wedge's pregame announcement.
"It's hard," Hernandez said. "It's a sad day for everybody. He's a great guy, a great leader. I don't know what to say. It's unbelievable. He's a tough guy. He showed us a lot of strength. He taught us how to play real hard baseball."
It hasn't been an easy final stretch for Hernandez, who went winless in his last six outings. But after striking out 10 in just four innings in his previous start in Anaheim, Hernandez whiffed six more with just one walk before being lifted after 106 pitches.
His outgoing skipper appreciated the effort from his ace, as always.
"I thought he righted himself and did a nice job, especially those last couple innings when he was really good," Wedge said. "They came after him quick, and then he settled down. He didn't have quite the same command early as he did late. It was nice to see him get us deep in the ballgame the way he did though.
"I think it says a great deal about an athlete when they want to finish what they started. They want to finish the season. That's something he was adamant about and I respect that."
Hernandez finished the year with a 12-10 record, a 3.04 ERA and 216 strikeouts. Hernandez and Detroit's Justin Verlander are the only pitchers in baseball with five straight seasons of 200-plus innings and 200-plus strikeouts.
He joins Verlander, Johan Santana and Roy Halladay as the only active pitchers with five career 200-strikeout seasons and Jamie Moyer (seven) and Randy Johnson (six) as the only Mariners pitchers to ever record six or more 200-inning seasons.
Though he pitched extremely well for much of the season and earned his fourth American League All-Star berth, Hernandez won just one game after July 21, when he was 11-4 with a 2.43 ERA. In his final eight starts since Aug. 6, Hernandez went 1-5 with a 5.77 ERA.
After Wedge informed the team after pregame batting practice that he wouldn't be back next season, the A's jumped on Hernandez quickly with the three-run blast by Moss in the first. But he settled in after that and gave up just two hits over the next five frames before being replaced by Oliver Perez, who promptly gave up a two-run blast to Derek Norris in a three-run seventh.
The A's were thrilled to get to Hernandez early, given he'd not allowed a run in 14 2/3 innings against them in two prior meetings this season.
"All season? Really?" Oakland manager Bob Melvin said when informed of that statistic. "Well, then three runs felt like 100. That's usually when you get a good starter, early in the game, before he gets in his rhythm."
The A's did far more damage after Hernandez's departure, with three tallies off Perez and then two more against Lucas Luetge and Tom Wilhelmsen in the eighth as Seattle's worn-down bullpen continued its late-season struggles.
Franklin Gutierrez hit a solo homer in the first off Bartolo Colon. and Kendrys Morales added his 23rd long ball in the sixth to cut the lead to 3-2.
But that was all the damage mustered in six innings against Colon, as the 40-year-old finished his regular season at 18-6 with a 2.65 ERA. Detroit's Anibal Sanchez leads the AL with a 2.64 ERA going into Saturday's start at Miami, while Seattle's Hisashi Iwakuma has already finished his season at 2.66.
The Mariners totaled just four hits on the night, but first baseman Justin Smoak said that had nothing to do with the difficult news about Wedge.
"Once you get on the field, it's just baseball," Smoak said. "Colon pitched 95-96 [mph] a few times tonight. He just pitches. He takes something off, adds and subtracts, goes in and out. Against lefties he throws the two-seamer and gets ahead, then he comes back with it. You just have to hope he gets one over the plate and you don't miss it."
Gutierrez became the ninth Mariner this season with 10 or more home runs, tying the club record set in 1988 and '97. Cleveland is the only other team in the Majors this season with nine players with double-digit home runs.
The loss dropped Seattle to 70-90 on the season with two games remaining this weekend against the A's, who have clinched the AL West at 95-65.
Greg Johns is a reporter for MLB.com. Follow him on Twitter @GregJohnsMLB as well as his Mariners Musings blog. This story was not subject to the approval of Major League Baseball or its clubs.