Wilson bears down, but Rangers pull it out late
Wilson bears down, but Rangers pull it out late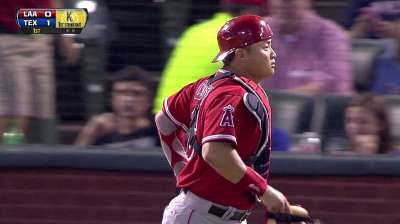 ARLINGTON -- Several of the balls that were used for Friday's 5-3 loss at Rangers Ballpark weren't rubbed up, and Angels starter C.J. Wilson -- who struggled with his command while nonetheless pitching six innings of three-run ball in a no-decision -- was suspicious.
"Are you going to call it a coincidence?" he said. "It's not a coincidence. Let's be honest."
Wilson didn't go so far as to accuse the Rangers of not rubbing up the balls before the game to purposely throw him off. The veteran left-hander said only "one out of every four" was rubbed up and "balls were kind of squirting around."
Asked if he believes it was only him, and not opposing starter Alexi Ogando, who got the bad balls, Wilson said: "I don't know. All I know is that every couple balls, I'd be like, 'Oh, this is a good one.' And then I'd have a little grip and then they'd foul one off and I'd be like, 'Oh, [junk].' And then the next one would come out and I'd be like, 'No, no, no.' We changed way more balls than we'd normally change. But that's not really the focus of the game."
In the end, it didn't directly impact the end result.
Wilson left with the game tied at 3, and the Rangers tacked on a couple of runs off the Angels' bullpen in the seventh, getting an RBI single by Alex Rios and plating their fifth run when Erick Aybar threw slightly wide of first on A.J. Pierzynski's two-out grounder up the middle, which allowed Rios to score from second.
Thanks to back-to-back victories to start this four-game, regular-season-ending series, Texas (89-71) remained one game back of an American League Wild Card spot, with the Indians and Rays now tied for the first slot.
The Angels, still winners of 23 of their last 34 games, moved to 78-82 and now have no shot at finishing the season with a .500 record. They haven't been there since the second game of the season, and the word "frustrating" has been used numerous times by Mike Scioscia.
"I think that's a pretty good buzz word to put on it," said the Angels' manager, steering only the fourth losing team in his 14-year career in Anaheim. "But if you're talking about this last month, it's been exhilarating. The way these kids have played, the way we've pitched and played baseball the way we need to, has been an absolute blast for us. And it's the way we need to get after it. The fact we're going to end up with a losing record is always disappointing. But we've known for a while what lies ahead of us, and we need to get after it."
Scioscia acknowledged that some of the baseballs used came right out of the box, "still had packing dust on them," and were not cloaked in the typical rubbing mud, a task that usually falls on the umpire's room attendant and is ultimately the umpiring crew's responsibility. But the Angels' skipper believes the Rangers "were using the same ones" and simply said Wilson was "just off all night."
"He was behind every count," Scioscia said. "It was just a struggle for C.J. Still, he got through six innings and gave us a chance. But he wasn't sharp out there tonight."
Wilson needed 77 pitches to get through three innings and was especially erratic in a two-run bottom of the third.
In that frame, the former Rangers starter threw three wild pitches -- one shy of Kevin Gregg in 2004 for most in franchise history for a whole game -- hit two batters and walked one. Elvis Andrus hit a one-out single and moved to second on a wild pitch, Rios walked on a wild pitch, Adrian Beltre was hit on an 0-2 pitch and Pierzynski took a 2-2 slider to the shoulder to plate a run. Three pitches later, Wilson bounced one in the dirt to plate the Rangers' third run.
After that, Wilson relied heavily on his fastball and finished his outing retiring 11 of 13 batters, giving him 24 quality starts in 33 outings while finishing the year at 17-7 with a 3.39 ERA.
But the majority of his postgame scrum with reporters centered on the baseballs that weren't rubbed up -- ones Wilson and catcher Hank Conger were constantly throwing back, and ones that didn't allow Wilson to throw proper sliders and curveballs.
"Baseball is a game of adjustments," said Wilson, 0-1 with a 9.72 ERA in five starts at Rangers Ballpark as a visitor. "They're not going to hit timeout on the game. I don't really try to stall out there. I want to pitch. But sometimes the ball is not in condition to play baseball with, so I try to use rosin and sweat and grind some grip onto it."
Angels pitching coach Mike Butcher said the baseballs were "like a cue ball."
"A non-rubbed-up ball, basically, for a guy who has movement, it creates a lot more movement," Butcher said. "A guy who throws relatively straight -- fastball straight -- it'll create more movement, whether it's cut, sink. I think it adds a little bit. It's also harder to command. That's why they rub them up. They use the mud for a reason, to get a grip and to get a feel. And when a ball's not rubbed up, the balls sail on you, will cut on you, sink. It'll do all kinds of different things."
As for why the baseballs weren't rubbed up?
"Maybe there was a shortage of mud," Butcher said with a smile. "Who knows? I'm not really sure."
Alden Gonzalez is a reporter for MLB.com. Read his blog, Gonzo and "The Show", and follow him on Twitter @Alden_Gonzalez. This story was not subject to the approval of Major League Baseball or its clubs.