Rockies deciding how to immortalize Helton's No. 17
Rockies deciding how to immortalize Helton's No. 17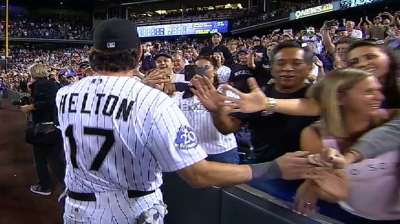 DENVER -- The question isn't if the Rockies will retire Todd Helton's No. 17, Rockies owner and CEO Dick Monfort is simply trying to determine when to do it and where to hang the first retired number in franchise history.
Monfort said there wasn't a hard-and-fast policy about number retirements, although in the past it was believed the Rockies would refrain from doing so unless someone was elected to the Hall of Fame.
"We don't have a policy, we never have," Monfort said. "We'll study up on the protocol. What's the respectful thing to do? I don't know what's respectful. Do you wait a year? Do you do it the first game of the next year. Do you do it after he gets in the Hall of Fame? Do you do it on his birthday? Whatever it is, we'll just research it and figure it out."
The only other jersey number that comes up in the discussion is No. 33, worn by Larry Walker from 1995-2004. It has not been worn in a regular-season game, although the Rockies did issue it to pitcher John Maine in 2011. Maine, who was coming off an injury, wore it in Spring Training but his work for the organization consisted of 11 appearances at Triple-A Colorado Springs. The only unavailable number is 42, which was retired across the Majors to honor Jackie Robinson.
The Rockies have honored their former club president, Keli McGregor, by displaying his initials with a background of purple pinstripes on the right-field wall. McGregor died on April 20, 2010, of a rare virus that affected his heart muscle.
Monfort said he wants the jersey, and the honoring of McGregor, to be more visible. Monfort noted that the Dodgers place their retired numbers above the bleachers in left and right field.
"I always thought we should do something on that big deal on top [at Coors Field]," Monfort said. "We argued a lot about where to put Keli's display. We have to figure that out."
Thomas Harding is a reporter for MLB.com. Read his blog, Hardball in the Rockies, and follow him on Twitter @harding_at_mlb. This story was not subject to the approval of Major League Baseball or its clubs.