Veteran Carroll records 1,000th career hit at age 39
Veteran Carroll records 1,000th career hit at age 39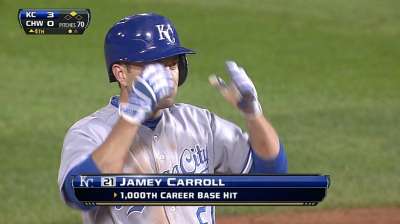 CHICAGO -- Jamey Carroll, starting at third base for the Royals, drilled a double in the fourth inning of Friday night's 6-1 win against the White Sox to reach a special milestone: his 1,000th career hit.
The line drive off left-hander Chris Sales was close to being a home run, bouncing high off the left-field wall at U.S. Cellular Field. The hit was turned into the 560th run of Carroll's career by Emilio Bonifacio's single.
"Chicago is good to me," Carroll said. "Last year, on my 10-year anniversary with my whole family here, I hit a home run that day. And I thought it really doesn't get much better than that."
But it did with this one.
Carroll, 39, didn't reach the Majors until he was 28. He spent seven years in the Minors before making his big league debut with Montreal on Sept. 11, 2002. His first hit, a single, came in that game against the Cubs' Alan Benes at Wrigley Field. So his first hit came on the North Side of Chicago, his 1,000th on the South Side.
These days Carroll has a special cheering section in 5-year-old twins Cole and Mackenzie. Son Cole asked him every day about getting the big hit.
"So today he actually told me, 'When you get the hit, will you stop at second?' I said, 'Hey, buddy, maybe I'll do a headfirst slide for you,' and as I was rounding first, I thought, 'My God, there's going to be play,' so it's amazing what you can do when you don't want to let your son down," Carroll said. "So it worked out pretty good."
This is Carroll's 11th season in the Majors.
"I'll you," he said with a smile, "it's only 22 more years until 3,000."
Dick Kaegel is a reporter for MLB.com. This story was not subject to the approval of Major League Baseball or its clubs.