Sale's All-Star season ends in loss to Kansas City
Sale's All-Star season ends in loss to Kansas City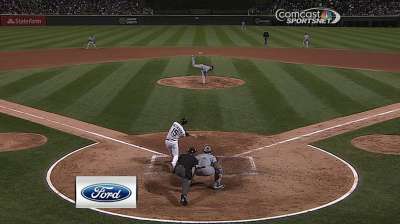 CHICAGO -- Chris Sale's season didn't end the way he would've liked Friday night at U.S. Cellular Field.
Making his final start of 2013, the All-Star left-hander gave up three runs in the first inning, and the White Sox offense was handcuffed by Royals starter James Shields in a 6-1 loss to Kansas City.
Sale allowed four runs on nine hits, walking one and striking out five over 5 1/3 innings.
"They were just hitting," Sale said. "This is a team that I either feel like I do well against or don't do well at all against. They are a very free-swinging team, but at the same time, they are very athletic. They put the bat on the ball and they make things happen. You have to bare down sometimes, and I just didn't have it tonight."
Kansas City jumped on Sale early. With one out in the first, the left-hander walked Emilio Bonifacio, who stole second and moved to third on an Eric Hosmer single. Both scored on a double by Billy Butler. Salvador Perez followed with another single, and one out later, Lorenzo Cain singled home Butler to make it 3-0.
In the fourth, Jamey Carroll doubled off Sale and scored on a single by Bonifacio to make it a 4-0 game.
"He's had a good year, and tonight wasn't one of [his better starts]," White Sox manager Robin Ventura said of Sale. "[The Royals] swung it pretty good against him tonight, and that's part of [the reason for] taking him out. I don't think at that point you're going to gain anything by having him trying to squeak out any more innings. But he's one of the best pitchers in the league, and we're lucky to have him."
With two out in the sixth, Alcides Escobar singled against reliever Jake Petricka and scored on an Alex Gordon double. Gordon came around to score on a single by Bonifacio to make it 6-0.
The White Sox scored their lone run in the sixth, when Gordon Beckham hit his fifth home run of the season and first since Aug. 20 at Kansas City.
The next batter, Alexei Ramirez, hit a deep drive to left that Gordon caught, but only after climbing the wall unnecessarily and coming back down, causing Ramirez, who trotted all the way to third, to think he had a homer. U.S. Cellular Field thought he had a homer, as well, as fireworks lit up the sky.
"[Gordon] deked me," said Royals manager Ned Yost. "I didn't know if the ball was a home run or not, and I thought, 'Geez-o-bee, now we've got a four-run lead.' And then, all of a sudden, the fireworks are going off and Alex takes the ball out and throws it in. So he got me. I thought the ball was gone. I did. I didn't know what happened."
The White Sox had a scoring chance in the fourth, when Ramirez hit a one-out triple to left. But Adam Dunn struck out and Paul Konerko flied out to end the inning. Chicago has advanced three runners into scoring position in the series' first two games.
Chicago has lost four in a row and has been outscored, 21-9, over that stretch. The White Sox have lost 22 of their last 28 games and are 8-9 against the Royals this season entering the final two games of the series.
Sale entered the start with the third lowest run-support average (3.27) in the Majors. Including Friday night's contest, the White Sox scored three runs or fewer while Sale was in a game in 20 of his 30 starts. Nevertheless, he said he wished his last outing of 2013 was a better one.
"I feel like that has been a reoccurring thing every year," Sale said of finishing his season with a rough outing. "My last one is always a pretty bad one. Maybe next year I can fix that and end on happy note, but I just didn't have it tonight."
Sale -- who finished with a 4.91 strikeout-to-walk ratio (226 strikeouts to 46 walks) for the season, setting a new franchise record by surpassing the 4.80 mark set by Ed Walsh in 1908 -- added that he did make progress in 2013, and looks to build on that for next season. Sale surpassed the 200-innings mark and had more than 200 strikeouts for the first time in his career.
"Those are all things to build off of, I guess you can say, and to strive for in the future," he said. "Not only to reach that, but to surpass those as well. You can strike out as many people as you want, but you have to win some games. That's something else I'm waiting for next year."
Ventura said that despite a rough outing Friday, Sale finished the 2013 campaign much stronger than he did '12.
"Last year, velocity was way down toward the end of the year, and this year he has learned how to go through a season," Ventura said. "He was better at that. He's going to get better as a pitcher, and mature and do all those things. But once you go through a full season and mature, this year I think he learned that."
Manny Randhawa is an associate reporter for MLB.com. This story was not subject to the approval of Major League Baseball or its clubs.