Smith plagued by homers in final start of '13
Smith plagued by homers in final start of '13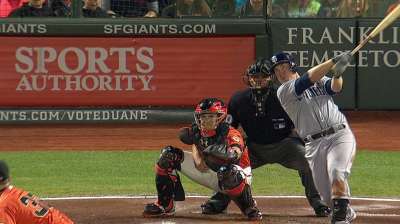 SAN FRANCISCO -- So much for the marine layer.
Nestled next to the blustery San Francisco Bay, AT&T Park is supposed to be a tough place to hit home runs. It did not look so hard Friday night, as the Giants uncharacteristically belted three homers to hand the Padres a 7-3 loss to open the final series of the season.
Padres starter Burch Smith had done a fine job limiting the long ball since rejoining San Diego as a September callup, but it proved to be his bane Friday. Juan Perez, Brandon Belt and Hunter Pence each teed off on Smith, sending baseballs into the bleachers and the Giants and the Padres (75-85) into a third-place tie in the National League West.
"It was a good learning experience today for Burch," manager Bud Black said. "He sort of hung in there -- he kept going, making some pitches, and got some strikeouts."
So ends an up-and-down rookie season for Smith, who made the leap from Double-A to The Show in May, before shuttling between San Diego and Triple-A the rest of the year. As manager Bud Black was quick to note after the game, Smith came a long way in 12 months.
"He has made a lot of progress in a short period of time," Black said. "A year ago, this young pitcher was on the [high Class A] Lake Elsinore roster in the California League, and now he's pitching against [Buster] Posey, [Pablo] Sandoval and Pence in the Major Leagues."
To start Friday's game, it looked like Giants starter Ryan Vogelsong was the one who would be in trouble. The Padres used three hits and a fielder's choice to knock across a run in the first, but that was all they could muster in that inning against the veteran righty.
Smith, meanwhile, served up his first home run in the second, when outfielder Perez sneaked one over the left-field fence to record his first big league round-tripper. The hard hits continued into the third inning, when Belt launched one out to right field and Pence drilled one halfway up the bleachers in left field to make it 5-2 Giants. It marked the first time since May 29 that the Giants recorded a multi-homer game at AT&T Park.
"I left some pitches over the middle of the plate, and they did what they're supposed to do with it," Smith said. "I just tried to battle back from there."
Once Smith got past the third inning, he was able to get into a rhythm, retiring eight Giants in succession until allowing two baserunners and getting pulled in the sixth.
Smith finished 5 2/3 innings of work, allowing six earned runs on eight hits and three walks while striking out eight. For his rookie year, Smith went 1-3 with a 6.44 ERA in 10 appearances (seven starts), striking out 46 in 36 1/3 innings.
"I feel like I've acquired a lot of knowledge about some of these hitters," Smith said. "I wish there was another one to get ready for."
For now, the plan is for Smith to stay sharp against some of the game's top prospects at the Arizona Fall League before ramping up again for 2014. Heading into the offseason, Black said Smith was "in the mix" for a rotation spot next year.
Offensively, the Padres' top contributor Friday night was Jedd Gyorko, who went 3-for-4 with a double and an RBI. Gyorko was the only hitter to have a multi-hit game against the Giants, who received a solid start from Vogelsong.
"He had good stuff; he left a couple balls out over the plate to me," Gyorko said. "Just tried to get myself in some good hitter's counts and force him to throw some strikes in there and just put a good swing on it. Swing felt pretty good today, and hopefully I can carry it over the next couple of days."
Vogelsong gave up two runs in six innings of work, allowing five hits and four walks while striking out three.
"I told you guys before, I've had trouble with my delivery," Vogelsong said to reporters after the game. "I've been fighting it all year, but tonight was a little better."
The Padres showed some life in the late stages of Friday's game, but by that time it was too late. They used a single, a double and a walk to load the bases with no outs to begin the eighth, but a Jesus Guzman strikeout and a 1-2-3 double play from Nick Hundley ended the rally as quickly as it started. Logan Forsythe led off the ninth inning with a solo shot to center field, bringing the score to its final margin, but the Padres were done for the night.
It might have been a game No. 160 between two non-playoff teams fighting for third place in the division, but Black said his team was still focused.
"Every game's important," Black said. "Every game you play to win, and that's what we're going to do."
Alex Espinoza is a contributor to MLB.com. This story was not subject to the approval of Major League Baseball or its clubs.