Ross aims to end '13 with another solid start
Ross aims to end '13 with another solid start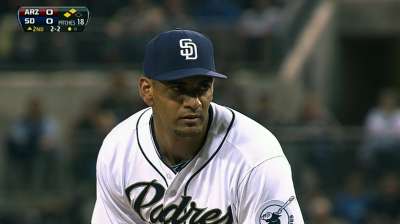 SAN FRANCISCO -- Tyson Ross, who grew up across the Bay in Oakland, figures to have a big cheering contingent Sunday when he takes the mound against the Giants for the season finale. Not only will he be trying to pitch well in front of his family and friends, but he will be trying to keep up his string of strong performances that have him poised for a spot in the 2014 Padres rotation.
"Things are just starting to come together, and we've got a good coaching staff here," Ross said. "I was lucky to get back into the rotation to get that chance."
Ross made three starts to begin the year before spending time in Triple-A Tucson to work with his mechanics. He returned as a reliever but has been a mainstay in the team's rotation since the All-Star break, posting a 3-4 record with a 2.80 ERA and 78 strikeouts in 74 innings of work. In his latest start, against Arizona, he matched his career high with eight innings while allowing just one run.
"Since he was re-inserted into the rotation, he has really taken off; there's no doubt about it," manager Bud Black said. "Tyson has pitched outstanding. The won-loss [record] really doesn't indicate it. ... If he continues to pitch like this moving into next year, a lot of good things are in store for him."
Black pointed to Ross' ability to lower his walks and hits allowed, while noting that the team helped Ross make a few tweaks to his approach. The manager added that Ross' stride on the mound has been slightly altered and that they have told him to focus on one fastball grip, his two-seamer, whereas he used to have three variations of the pitch.
Ross has made starts before as a member of the Oakland A's in 2012, but he said he was encouraged by the bigger role he had been able to carve out this year.
"It's always been the goal," Ross said. "It's been fun to have such a supportive staff that's believed in me and given me the opportunity to do this. I'm just taking my opportunity and running with it."
Alex Espinoza is a contributor to MLB.com. This story was not subject to the approval of Major League Baseball or its clubs.