GM Hahn expects Ventura back as skipper in 2014
GM Hahn expects Ventura back as skipper in 2014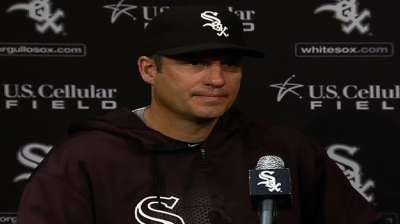 CHICAGO -- With one year remaining on Robin Ventura's three-year contract, general manager Rick Hahn left little doubt Friday that Ventura would be back managing the White Sox in 2014.
"I expect Robin back next year, yes," Hahn said during his season-ending press conference. "He has met the challenges this team's put in front of him over the last two years, both the good and the bad, extremely well.
"At the end of the day, I think managers and coaches are judged ... again, results matter, but it's also about communication, enthusiasm, the ability to get the most out of players. We certainly had some challenges here, but I think Robin's met all of them very well."
Ventura has talked not only about a desire to manage again in 2014, but recently told reporters he would like to be with the White Sox past that final year, even though he turned down a one-year extension before '13. Ventura's entire coaching staff will be re-evaluated after this trying season comes to a close.
Hahn didn't want to address any specifics in regard to the staff. And while everyone in the organization takes responsibility for the 2013 debacle, it's ultimately up to the players to translate the staff's hard work into on-field success, like it did in '12.
"We'll address all of that after the season is over," Hahn said of the coaches, with pitching Don Cooper having two years left and hitting coach Jeff Manto having one year. "I don't think it's fair for anyone in uniform for me to single out individual coaches or individual players at this time, while we're still playing, and say, 'This guy fits going forward,' or, 'That guy doesn't fit going forward,' or, 'We're looking to trade this guy.' I would never do that. I don't think that's professional."
Ventura, for one, would like to have his coaches back in full.
"Definitely," Ventura said. "In discussions right now it has been mostly about players and things like that. I hope so."
Scott Merkin is a reporter for MLB.com. Read his blog, Merk's Works, and follow him on Twitter @scottmerkin. This story was not subject to the approval of Major League Baseball or its clubs.