Ethier trying to get healthy in time for playoffs
Ethier trying to get healthy in time for playoffs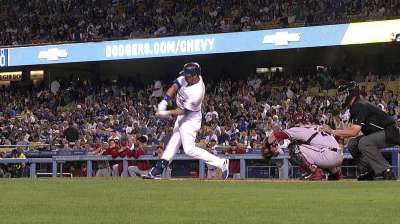 LOS ANGELES -- Dodgers outfielder Andre Ethier is rehabbing his injured left ankle at the club's Spring Training facility at Camelback Ranch-Glendale and will work out in Arizona through Monday, according to manager Don Mattingly.
Ethier had 15 at-bats in a simulated game on Friday and ran on an anti-gravity treadmill, Mattingly said.
"We're basically trying to get him as many at-bats as we can so he can get the timing part without the running part," Mattingly said before Friday night's game against the Rockies. "That's really the main reason for going there, to be able to get 10-15 at-bats a day."
Ethier's availability for the National League Division Series, which begins on Thursday, remains in doubt. Mattingly said Ethier will return to Los Angeles Monday night and join the club for Tuesday's workout at Dodger Stadium.
The Dodgers are calling the injury a left ankle sprain. Ethier said the discomfort he has is believed to stem from the periosteum, the sheath that covers the bones of the leg, with pain similar to shin splints.
Ethier initially injured his left ankle on a swing in Colorado on Sept. 4 and aggravated it on a double against the Giants on Sept. 13, the last time he started. After more than a week of treatment, he encountered increased pain trying to round the bases in a workout on Tuesday in San Francisco, leading to an MRI exam and CT scan on Wednesday in Los Angeles, which showed his lower left leg had improved but not completely healed. Drs. Neal ElAttrache and Phillip Kwong, a foot and ankle specialist, cleared Ethier to return to games when he is able to run the bases without pain.
"The thing that's hurt him is the turns, so they really don't want to do any turns until they have to," Mattingly said. "Just trying to allow maximum time for this thing to let it keep healing. I don't think anybody is afraid of letting him have at-bats."
Austin Laymance is an associate reporter for MLB.com. This story was not subject to the approval of Major League Baseball or its clubs.