White Sox focus on long-term fix, not splashy free agent
White Sox focus on long-term fix, not splashy free agent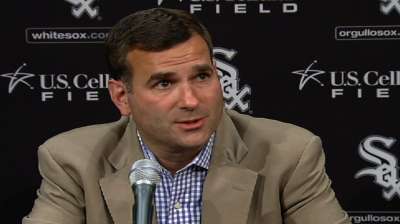 CHICAGO -- During a 25-minute season-ending press conference Friday, general manager Rick Hahn reiterated a point made recently to MLB.com that increased spending on the First-Year Player Draft and in the International market will be two of the top-line items on the 2014 budget.
The White Sox general manager also pointed out that the goal of the upcoming offseason moves, whether they are through trade or free agency, will be geared toward long-term success.
"Is it possible that there will be enough at that point to be a player in free agency? Absolutely," said Hahn, referring to money earmarked for the Draft and international spending. "But again, we're going to shy away from any short-term fix.
"It's going to be getting this thing right so that on an annual basis, we're in a position to contend for the postseason. If a free agent this year fits, a big-name, high-priced free agent is not just going to be for '14. It's going to be with a vision for the next several years thereafter as well."
Hahn is cognizant of the fans' displeasure over the 2013 struggles. But he believes maximizing wins over an extended period of time is what people want to come to see.
"Now I will say, the brand of baseball that we've played, I can understand not appealing to people," Hahn said. "It doesn't appeal to me, making the mistakes that we've made defensively or on the field or even some of the issues we've had at the plate.
"So some of the areas we want to improve probably will resonate with our fans. They'll see our intent is for them to see very quickly a brand of baseball that they probably associate more with what they want to see and White Sox baseball. In the process, they're going to be drawn back.
"Ultimately just to make a splashy move for the say, 'Hey, look,' and hold up a jersey with some guy here in December and hope to sell some tickets ... for me, it's an extended period of winning that's going to bring people back and make them keep coming back."
Scott Merkin is a reporter for MLB.com. Read his blog, Merk's Works, and follow him on Twitter @scottmerkin. This story was not subject to the approval of Major League Baseball or its clubs.