Harang's solid outing can't lift Mets past Brewers
Harang's solid outing can't lift Mets past Brewers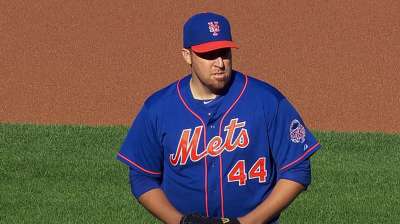 NEW YORK -- The first answer regarding the Mets future came early Saturday afternoon. Reports surfaced that manager Terry Collins would be given a two-year extension with a team option for a third year. The second answer arrived hours later, once when the Mets walked off the field following a disappointing, 4-2 extra-inning loss to the Brewers. Officially finishing with one of the 10 worst records in the league, New York clinched a protected first-round pick in the 2014 First-Year Player Draft.
As the Mets' season nears its close, their future became somewhat clearer. When Collins returns to the dugout for a fourth season with New York, he could have a bolstered roster. General manager Sandy Alderson now has the ability to sign any free agent without losing his first-round pick. Saturday's loss provided that opportunity, and it resulted from a lack of timely hitting Collins has lamented much of the year.
"You've got to hit here. You've got to hit in this ballpark," Collins said of Citi Field, where the Mets are 32-48. "Everybody's going to pitch pretty good here, so you've got to come up with some big hits."
Collins' lineup only had one hit against Milwaukee starter Jimmy Nelson, but built chances against the Brewers' bullpen.
The Mets' first opportunity to take the lead came in the seventh against Brewers reliever Michael Blazek with the score tied at 1. Anthony Recker led off the inning with a single, and Omar Quintanilla laid down a bunt Yuniesky Betancourt bobbled to allow him to reach base. Josh Satin walked to load the bases with no outs, but Blazek retired the next three hitters to escape the jam.
After Milwaukee scored in the eighth to take a 2-1 lead, the Mets fought back in the ninth.
Brewers reliever Donovan Hand walked pinch-hitters Zach Lutz and Andrew Brown with one out. Eric Young Jr. singled in the tying run and took second on the throw home. Hand hit Lucas Duda to load the bases, but David Wright grounded into a double play to send the game to extra innings.
"We were fortunate to get over behind the bag to get it," Brewers manager Ron Roenicke said.
It ended up being another missed scoring chance for the Mets, who were 1-for-10 with runners in scoring position and left 10 runners on base.
"We had a chance, we came back, could've won the game," Collins said. "We had the right guy up, had everything in place. We didn't get the luck of the draw."
All of those blown opportunities ended up costing the Mets in the 10th inning, when Carlos Gomez and Betancourt hit RBI singles.
New York had another strong start from Aaron Harang, a late-season pickup who provided a stopgap in the rotation.
The lone blemish on the right-hander's line came in the fourth, when he hung a breaking ball that Gomez sent down the left-field line to put the Brewers up 1-0. Harang left the game after six innings, having allowed five hits and two walks with seven strikeouts.
"I was able to go out and make pitches, kind of keep them off balance," Harang said. "I made the one mistake to Gomez, just a hanging slider. I was able to work out of some jams and make good pitches when I needed to."
Saturday's loss wasn't disappointing for the Mets, though it wasn't necessarily surprising. Collins even acknowledged it, saying his team's inability to scratch out a run in some big spots "are the things that have come back to haunt us six straight months."
Saturday's result looked all too familiar for Collins and the Mets, as it was the third straight game they lost 4-2. Though next season, he could have a strengthened offense if Alderson inks a free-agent hitter in the offseason, something the Mets have the freedom to do with a substantial amount of money coming off their payroll. And with Saturday's loss, they don't have to forfeit their first-round selection to sign any free agent that receives a qualifying offer from his original team.
Collins has maintained he wants to win as many games as possible, regardless of potential penalties. He's close to receiving a two-year contract extension, and could return to an altered roster next season.
But even with an inexperienced team this season his expectations never wavered, and they won't change next season either.
"We don't like to lose," Collins said. "We play to win."
Chris Iseman is an associate reporter for MLB.com. This story was not subject to the approval of Major League Baseball or its clubs.