Oberholtzer caps solid season, but Astros fall short
Oberholtzer caps solid season, but Astros fall short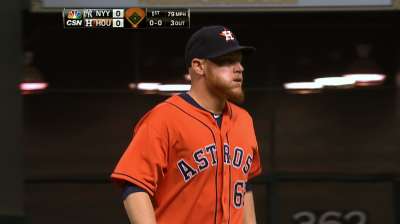 HOUSTON -- The debut of Brett Oberholtzer was one of the Astros' most positive developments of the season. He was a guy with some upside and potential, but no one in the middle of the season had him pegged as someone who could be a key piece of the rotation.
With only three shaky Major League outings as a reliever under his belt, Oberholtzer was tabbed to start in a pinch for the Astros on July 31 in Baltimore when veteran Erik Bedard was scratched. The lefty took the ball and hasn't looked back.
Oberholtzer, admittedly running on fumes, gutted his way through 5 1/3 innings Friday night in his final start of the season, allowing three runs (two earned) and five hits as the Astros lost their 13th game in a row, 3-2, to the Yankees at Minute Maid Park.
Oberholtzer went 4-5 with a 2.24 ERA in 10 starts and allowed two or fewer earned runs in seven of those starts.
"It was something I always knew I could do," Oberholtzer said. "I got the opportunity and took the bull by the horns and was able to give my team a great opportunity to win some ballgames down the stretch."
The Yankees, who were eliminated from postseason contention earlier this week, improved to 11-2 all time against the Astros, including 4-0 in Houston. The Astros have only two games remaining this season to try to snap their franchise-long losing streak.
"You can't worry about the wins and losses at the end of the day," infielder Brett Wallace said. "You can't look every night at your record and feel sorry for yourself or panic thinking you need to get a certain amount of wins.
"Obviously, the goal is to keep getting better every day and learn how to win these close games. We want to get every single one we can and try to take the next step, which is winning one-run games and trying to finding a way to get that last run or two runs in so we can put them away."
Yankees right-hander Adam Warren (3-2) threw five scoreless innings in his third career start.
"He breezed," Yankees manager Joe Girardi said. "He got through the first four innings pretty easy so we decided to let him go back out. We checked with him and he said he felt fine."
The only damage the Yankees managed against Oberholtzer came with one out in the fourth.
Robinson Cano began the rally with a single, and Alfonso Soriano walked. Mark Reynolds followed with an RBI single to left field to score Cano, and Matt Dominguez misfired a relay throw to the plate to allow the runners to move to second and third.
"You don't relay a ball from the infield," Astros manager Bo Porter said. "You take the outs in front of your eyes or you keep the situation right where it's at. If the throw was on line and the catcher may have a play or he may not, but once that ball is off line, you cut it and check the outs in front of you. You have the outs in front of you, you take it."
David Adams followed with a two-run double down the right-field line to put the Yankees ahead, 3-0.
"Everything was diminishing early, and that was just a sign of a little bit of body fatigue," Oberholtzer said. "Now this is something I know that I can have control over next season and continue to pitch. Hopefully, this team and myself, we can continue to play ball into October [next year]. In the fourth, I was missing some points. My arm was dragging a little bit and my tempo and mechanics weren't up to par."
The Astros cut the lead to 3-2 in the seventh inning when Wallace greeted reliever Joba Chamberlain with a pinch-hit two-run double to center field. The Astros proceeded to load the bases, but Dominguez flied out to center field for the final out.
"A couple of big chances and we were unable to get the big hit," Porter said. "I really felt like Dominguez was going to get them there with the bases loaded. He's gotten so many big hits throughout the course of the year. He missed the one pitch he fouled straight back and then got under the ball with the foul ball. We had some opportunities and weren't able to push enough runs across."
The Astros are hitting .133 (11-for-83) with runners in scoring position during their 13-game losing streak. They were hitting .362 with runners in scoring position in the 13 games prior to their losing skid.
"Sometimes when you struggle with runners in scoring position it becomes something that everyone wants to talk about, and so it just becomes one of those numbers that gets thrown around a lot and guys go up to the plate and they want to think about that and try to do too much," Wallace said.
Brian McTaggart is a reporter for MLB.com and writes an MLBlog, Tag's Lines. Follow @brianmctaggart on Twitter. This story was not subject to the approval of Major League Baseball or its clubs.