Yost won't talk future, but wants to be back with KC
Yost won't talk future, but wants to be back with KC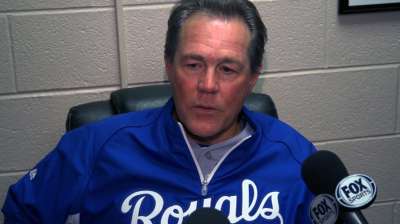 CHICAGO -- Ned Yost isn't commenting directly on his job status for 2014, but there's no doubt that he'd like to return as the Royals' manager.
"I've got too much invested here. These players are a joy to be around. It's a fun, fun group," he said Friday.
General manager Dayton Moore said two days ago in Seattle he "definitely" wanted Yost back and, because owner David Glass has been quoted as saying it's Moore's call, it appears only the details need to be worked out.
"Continuity is important, and as long as the clubhouse is healthy and it's got life and energy, that's a big part of the job," Yost said.
With the Royals' 84th victory Thursday night, Yost had directed the club to its most victories in the last 20 years.
Yost said he and Moore, who is on this last trip of the season, will discuss the matter after the season ends Sunday.
Dick Kaegel is a reporter for MLB.com. This story was not subject to the approval of Major League Baseball or its clubs.