Burnett's gem has Pirates on cusp of home field
Burnett's gem has Pirates on cusp of home field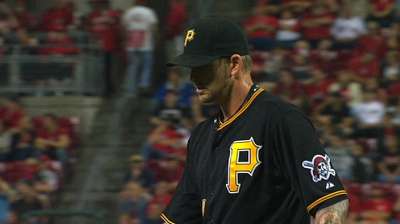 CINCINNATI -- This has been a week of emotional farewells across the Majors. Todd Helton said his good-byes in Denver, Mariano Rivera left them teary-eyed in the Bronx. If A.J. Burnett, with far less fanfare, was delivering his epilogue on Friday, he did it stylishly.
How's this for a possible exit line: 8-5-1-1-1-6?
That effort went toward a 4-1 victory over the Reds in front of 40,107 at Great American Ball Park, behind Marlon Byrd's two-run single and Pedro Alvarez's two-run home run. With his 10th win, Burnett reached double figures for the eighth consecutive season.
"I'm just going day by day, trying to enjoy it," Burnett said after his second -- nearly identical -- gem over Cincinnati in eight days. While the unrealistic hopes for a crack at the National League Central title expired as St. Louis downed the Cubs to formally eliminate the Bucs, the victory put the Pirates on the inside track of securing home-field advantage for Tuesday's NL Wild Card Game between these teams. The Bucs need to only split the final two games of this series -- and of the regular season -- to book that game at PNC Park.
No one knows with any certainty whether Burnett will call it quits. Not even him. The veteran right-hander's growing kids are tugging at him strong enough, however, for Burnett to wonder aloud whether he will seek a new contract after his five-year deal -- the one he signed with the Yankees on Dec. 12, 2008 -- expires.
But if the Bucs do not advance to the NL Division Series to get Burnett the ball again, Friday night may have been it -- after 370 starts, 2,353 2/3 innings, 147 wins and 2,180 strikeouts.
"I'm just looking for him to pitch three, four more weeks for us," Pirates manager Clint Hurdle said.
"I still love the competition," Burnett has told reporters, "and I still feel like I'm a pretty good pitcher. But right now, it's all about family."
For the second consecutive time against the Reds and Homer Bailey, Burnett rose way above "pretty good." He had registered the Bucs' only victory in last weekend's series in Pittsburgh, where he fanned 12 in seven four-hit innings.
"He had his stuff working today. Great pitcher," said the only man who gave Burnett a pause, Todd Frazier, who got to him for a homer in the fourth. "The record [10-11] doesn't show that, but we knew what we were in store for with him. We understand we got to get on him early."
"You see the man go out there and not just compete, but pretty much dominate, through eight innings," Hurdle said, "and it sparks everybody. That's what we're looking for.
"To face them back to back … and to pitch the way he has. It's been hard to get on him. Tip your hat to Frazier for the ambush swing."
"I just tried to go at it the same way, taking nothing for granted against those guys," Burnett said. "They come out swinging. I was able to keep the ball down for the most part and out of the middle. And I had guys everywhere behind me tonight, great plays in the infield and the outfield, so it was fun to be out there watching those guys moving."
The Pirates turned two double plays behind Burnett, but no one moved more beguilingly than Starling Marte, who swooped in to make a remarkable catch of Joey Votto's quickly-sinking liner to left in the third. Marte seemed to materialize out of nowhere to barely wedge his mitt's webbing between the baseball and the blades of grass.
"I'm never surprised by what he does," Burnett said. "You might think the ball's in there and you look over and see two black shirts, because Cutch [Andrew McCutchen ] is always right behind him, backing up like he's supposed to."
Bailey spent his five innings Friday being the Constant Gardener. As Hurdle is apt to say of a pitcher having to deal with trouble, Bailey had to do a lot of yard work. He finally came upon some weeds in the third, when after loading the bases on a hit batter (Marte) and walks of McCutchen and Justin Morneau, he saw Byrd bounce a single into left for the first two runs of the game.
"I definitely wanted to come through there," Byrd said. "Big situation, we needed some runs. We needed the momentum changer, and I was able to come through. [Bailey] left a slider up just a little bit, and I was able to get it through the hole.
"You get [Burnett] one run, the way he's been pitching down the stretch since I've been here, and it's on. He's been amazing, giving you seven or eight innings, resting the bullpen, getting big outs if guy gets on. Either the double play or the strikeout with runners in scoring position. With that kind of effort, you have to get him some run support."
Frazier halved that lead by clanging his 19th homer -- and fourth of the season against the Bucs -- off the left-field foul pole in the fourth.
Two innings later, Byrd doubled and Alvarez followed with his 35th homer. Byrd had missed his own home run by inches when his drive to left-center smacked off the yellow line marking home-run territory, but there was no close call for Alvarez, who went halfway up the center-field batter's eye -- 443 feet away -- for his 98th and 99th RBIs of the season.
Burnett, who retired the final 10 batters he faced, was probably more challenged by his own urges than he was by the Reds. Seeing Bailey hit two of the first 10 Pirates he faced, Burnett's competitive instincts might have been to respond. However, even though no formal warning had been issued to the benches, he couldn't take a chance on retaliation bringing retribution.
Tom Singer is a reporter for MLB.com and writes an MLBlog Change for a Nickel. He can also be found on Twitter @Tom_Singer. This story was not subject to the approval of Major League Baseball or its clubs.