Brewers win in 10 after Nelson's debut as starter
Brewers win in 10 after Nelson's debut as starter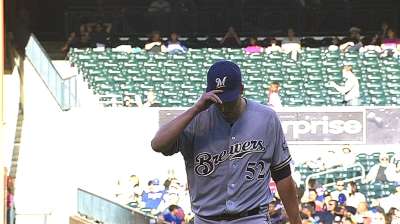 NEW YORK -- The most important thing for the Brewers on Saturday was not the wild finish to a 10-inning, 4-2 win over the Mets. It was not Carlos Gomez burning his former franchise to the tune of four hits, including a home run in the fourth inning and a go-ahead single in the 10th. It was not the unconventional combination of relievers employed at the end because the usual trio of Rob Wooten, Brandon Kintzler and closer Jim Henderson was off-limits due to recent workload. It was not Donovan Hand suffering a blown save in the ninth inning, only to notch his first Major League victory, or Alfredo Figaro finally ending a three-hour, 57-minute marathon with his Major League save.
The most important thing -- in the long view -- was right-hander Jimmy Nelson, MLB.com's top Brewers prospect, holding his own over five innings in his first Major League start.
If the Brewers are going to avoid more seasons as challenging as 2013, Nelson figures to be part of the comeback.
"It wasn't pretty," Nelson said, "but I tried to do my best to keep us in there and give us a chance to win, and we did that. We ended up scrapping it out in the end."
More on that later. For starters, there was Nelson, 6-foot-5 and 24 years old, becoming the 12th different pitcher to start a game for Milwaukee, most for the franchise since 2006. Pitching for the first time since a two-inning relief stint on Sept. 18 against the Cubs, and starting for the first time since Aug. 31 at Triple-A Nashville, Nelson held the Mets to one run on one hit and three walks in five often tense, but mostly effective, innings, with four strikeouts and one very wild pitch.
Nelson briefly pitched with a 1-0 lead when Gomez homered in the fourth, but he lost that advantage amid a bout of wildness in the bottom of that inning, when the Mets scored their only run without the benefit of a hit. Lucas Duda walked and took second when Nelson sailed a wayward slider over David Wright's head. Wright advanced Duda with a groundout, and Daniel Murphy tied the game when he lifted a sacrifice fly to left.
Nelson found more trouble when he walked Mike Baxter and Juan Lagares -- the latter on four pitches. But Anthony Recker sent a first-pitch comebacker to Nelson, who flipped the ball to first for the third out.
After working a 1-2-3 fifth, Nelson's starting debut was done.
He attributed his wildness to the baseballs, which Nelson found slicker than those in Triple-A.
"A lot of pitches sailed on me, just slipped out, really," he said. "You don't miss by that much and there not be something going on. That's been my biggest adjustment to his level, truthfully, getting a grip on the ball. Now I know that's an adjustment, I have to make coming into next year."
He settled for a no-decision and finished 10-10 with a 3.10 ERA in 28 starts and three relief appearances during a season that took him from Double-A Huntsville to Nashville to Milwaukee.
Is he ready for the Major Leagues?
"It may be too soon, but we'll have discussions on that," Brewers manager Ron Roenicke said. "He probably could use going back to Triple-A for a bit, but I don't know the circumstances we're going to be in. … He's coming along fast, but I think he needs to pitch some more. He's got good stuff. I like him."
Nelson threw 72 pitches, 39 strikes, and "he had a lot left," Roenicke said. "He's a guy who I think is going to carry out his stuff late in the ballgame. He didn't want to come out of that ballgame, but we had decided before the game where he was going to be about, [in terms of] pitch count."
Nelson was long gone when the game was decided. After Yuniesky Betancourt gave the Brewers a 2-1 lead in the eighth, Hand lost it in the ninth working in place of Henderson, the steady closer who had thrown 40 pitches in the last two days and was deemed unavailable at the start of the day. Hand walked two ahead of Eric Young Jr.'s one-out single, which tied the game.
With runners at second and third, the Brewers employed a five-man infield, as the center fielder Gomez helped to guard against a game-winning ground ball. Instead, Hand hit Duda with a pitch, and Gomez mistakenly returned to center, leaving the middle of the infield open with Wright at bat.
"To tell you the truth, I don't know why 'Gomey' ran back to center, but I can't make a trip [to the mound] because we had already made a trip, and to call him back in again -- I just said, 'We'll stay with this,'" Roenicke said.
Wright hit a sharp grounder up the middle and Hand appeared to deflect it just enough to allow shortstop Jeff Bianchi to field the ball, step on second base and throw to first for an inning-ending, tie-preserving double play.
"We were fortunate to get over behind the bag to get it," Roenicke said.
Hand was doubly fortunate, because when Gomez delivered a go-ahead single and Betancourt added an RBI single, Hand went from seeking his first Major League save to being in line for his first win. Figaro sealed it by pitching a perfect 10th inning.
The four-hit game was Gomez's fifth this season, and his first since July 24. He also had a four-hit game against the Mets on July 5.
"When he locks in, he can be a very tough batter," Mets starter Aaron Harang said of Gomez. "You've got to worry about the threat of the bunt with him, because of his speed. He also has the power to do some damage."
The Brewers have won six of their last seven entering Sunday's season finale.
"Long game," Gomez said, "but finally, we get the 'W,' and that's most important. ... Tomorrow we have the last one. We have to finish hard and get another win."
Adam McCalvy is a reporter for MLB.com. Read his blog, Brew Beat, and follow him on Twitter at @AdamMcCalvy. This story was not subject to the approval of Major League Baseball or its clubs.