McCann likely to rest until Game 1 of NLDS
McCann likely to rest until Game 1 of NLDS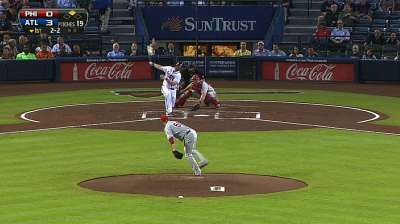 ATLANTA -- The Braves have no intention of rushing Brian McCann back into the starting lineup before the start of the National League Division Series next Thursday after the veteran catcher exited Thursday's game in the second inning with tightness near his right groin muscle.
"I don't think he's going to forget how to hit or catch in seven days," manager Fredi Gonzalez said. "And that's a nice thing to have, too, where you have seven days of treatment and seven days of settling down. Maybe we pinch-hit him if he feels good to pinch-hit on Sunday or something, just to get an at-bat, we'll do that."
McCann felt the area tighten while he was warming up starter David Hale in the bullpen before Thursday night's game and struck out in his only plate appearance before notifying Gonzalez of the issue.
"[Braves trainer Jeff Porter] explained to me that when injuries happen where he did it in the bullpen, he tweaked it a little bit, those are not as severe as if you would've done it in a game where it doesn't become more severe," Gonzalez said. "So, we feel like we dodged a bullet there, and Mac being heads-up and communicating to us that this happened and to take him out of a game, we feel like we dodged a bullet. I don't know if we can get him in a game before Thursday, but that's OK."
Eric Single is an associate reporter for MLB.com. This story was not subject to the approval of Major League Baseball or its clubs.