Scenarios abound, but Rays in control of destiny
Scenarios abound, but Rays in control of destiny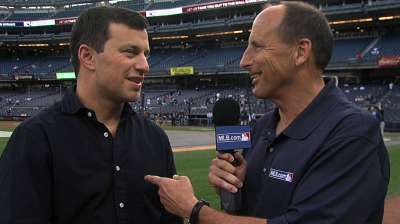 TORONTO -- Entering Friday night's action, there were 64 possible combinations of Rays/Indians/Rangers in regards to wins and losses and what the playoff implications are.
Where the Rays are concerned, the nice part is they control their own destiny. Simply stated: If they win at least two games over the weekend -- regardless of what the Indians or Rangers do -- they will earn an American League Wild Card spot and host the AL Wild Card Game at Tropicana Field.
Ironically, the three longest winning streaks in baseball heading into Friday night were the Rays and Indians, who have won seven straight, and the Rangers, who have won four straight.
Of note, the Rays and Rangers, who each suffered through 4-14 slumps recently, are trying to join four other teams in the Wild Card era who endured 4-13 or worse slumps in the final six weeks and still made the postseason. The others were: the Brewers (2008), Yankees (2000), Mariners (2000) and 1995 Yankees.
The Rays are seeking their fourth trip to the postseason, all coming in the last six years. If they do reach the playoffs, they will be one of four teams to do so four times since 2008. The others are the Yankees, Cardinals and Phillies.
Bill Chastain is a reporter for MLB.com. This story was not subject to the approval of Major League Baseball or its clubs.