Baker shifts Ludwick to two-hole for opener
Baker shifts Ludwick to two-hole for opener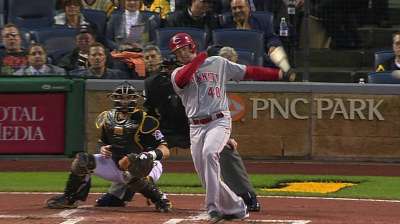 CINCINNATI -- For the first time this season, Reds manager Dusty Baker wrote left fielder Ryan Ludwick's name into the second spot of his lineup vs. the Pirates on Friday.
Baker informed Ludwick of the plan on Wednesday. Ludwick, who has been working his way back since a four-month stint on the disabled list after right shoulder surgery, has batted second often in his career -- most recently in 2010 for the Cardinals. That season, he batted .311 with a .389 on-base percentage, seven home runs and 26 RBIs while slotted ahead of No. 3 hitter Albert Pujols.
"It's a familiar spot in the lineup for me. It's a spot I've hit in," Ludwick said. "I'm comfortable there. It's nothing new. I think we have a pretty good manager in there and I obviously haven't hit for a ton of power since I've been back. I've gotten on base a little bit, but the power has been down. It's probably more suited for me."
Ludwick, who has often batted fourth, entered the night hitting .258, but he had only two homers and 12 RBIs in 35 games and 120 at-bats. Brandon Phillips switched from second to fourth in the lineup.
"The fact is I didn't really see him being ready 100 percent," Baker said. "They're walking Joey [Votto] and then I had him between Joey walking a lot and Jay [Bruce] being prone to strike out and him not very hot. Plus, I was taking him out of the game late in the game for defense, and that would leave a huge hole in the lineup late in the game or if we went into extra innings and had to use a pinch-hitter. And the guys I was using as his replacement were kind of second hitters anyway -- [Chris] Heisey and [Derrick] Robinson."
Ludwick realized there would be differences at times between batting cleanup and second.
"Obviously, in that two-hole, there are going to be times where you're trying to move a runner, probably, or get a guy over, more than the four-hole," Ludwick said.
Mark Sheldon is a reporter for MLB.com. Read his blog, Mark My Word, and follow him on Twitter @m_sheldon. Jeremy Warnemuende is an associate reporter for MLB.com. This story was not subject to the approval of Major League Baseball or its clubs.