Cabrera to play two of three in hometown
Cabrera to play two of three in hometown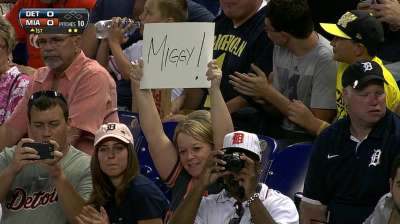 MIAMI -- Tigers manager Jim Leyland decided to strike a balance between resting Miguel Cabrera and maintaining his timing at the plate. After a discussion with Cabrera, Leyland decided that Sunday's regular-season finale will be the one game he doesn't play.
Leyland originally thought about resting Cabrera in Friday's series opener. Cabrera, playing in Miami for the first time since his trade to Detroit six years ago, wanted to play.
"He wants to play," Leyland said, "and I'm not going to not play him if he wants to play."
As much as Cabrera has been hobbled the past couple months, the risk of being rusty at the plate was too much for him.
"I had a day off yesterday. If we counted these three games off, it would've been four, plus four more," he said. "It's going to be eight days. That's too many days off. I prefer to play today and tomorrow and try to have five days off and be ready for the playoffs."
Cabrera said the combination of an off-day at his offseason home in Miami and a day of treatment on his injured groin made a difference.
Cabrera, playing in the park his success in Florida arguably helped build, went 2-for-3 with two singles, one of them off the right-field fence. He left for a pinch-runner in the sixth inning. He received a huge ovation from his old home fans every time he stepped to the plate, and again when he left.
Jason Beck is a reporter for MLB.com. Read Beck's Blog and follow him on Twitter @beckjason. This story was not subject to the approval of Major League Baseball or its clubs.