Blue Jays shake off homers, spoil Rays' party
Blue Jays shake off homers, spoil Rays' party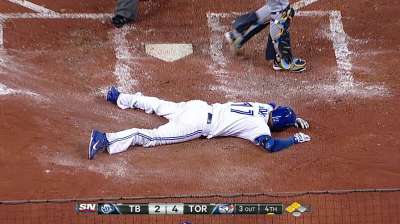 TORONTO -- With R.A. Dickey on the mound, the Blue Jays were able to put the Rays' celebratory plans on hold for at least one night as Toronto continues to play spoiler to its American League East foes.
With the Rays in a spot to clinch an AL Wild Card berth Friday night, Dickey and the Blue Jays held Tampa Bay's bats in check to ensure that the champagne stayed on ice in the visitors' clubhouse.
Dickey held the Rays to just a pair of solo shots, and the offense erupted in the middle frames against Tampa Bay starter Jeremy Hellickson, as the Blue Jays defeated the Rays, 6-3, in front of 27,288 at Rogers Centre.
For the 38-year-old knuckleballer, the performance concluded a strong final two months of the season. Since July 31, Dickey was 6-2 with a 3.11 ERA and a 1.13 WHIP.
"I wish I would've started the way I finished," said Dickey, who picked up his 14th victory of the season. "I certainly am glad that I was able to string a good couple of months together. I feel like I gave glimpses of what I can be for this team over that span."
Early on, however, an old nemesis plagued the right-hander for the final time this season. Dickey allowed a homer in each of the first two innings, including the 100th of Delmon Young's career in the second, bringing the knuckleballer's total to 35 homers allowed on the year -- one shy of the Major League lead.
"I gave up a lot of home runs, a lot more than I ever anticipated giving up," the former National League Cy Young Award winner said. "Now, will I give up a few more now than in the NL East? Certainly. But I need to make sure that they're solo shots.
"I just think that this year was really an anomaly. I really do. I'm not putting a lot of credence into the fact that I gave up 35 home runs this year. I think that in retrospect, it'll end up being a blip on the radar."
Those home runs had the Blue Jays down two runs early, but Dickey was nearly flawless after that. He faced just two batters over the minimum until his final frame, but left with the bases loaded and one out in the eighth inning.
Sergio Santos induced an inning-ending double play on a single pitch to James Loney to ensure no more damage was done to Dickey's line, and then finished off the ninth for his first save of the season.
In total, Dickey allowed two earned runs on five hits and a walk, while striking out three in his 7 1/3 innings.
"He was great. He got off to a shaky start, a couple of home runs, and then he really settled in," Blue Jays manager John Gibbons said. "He's coming off back-to-back good games, in Boston, and he finished really strong again today. He had a good year, his 14th win tonight for a team that's below .500. We'll take that."
"I don't think there should be any credit taken away from Dickey. He pitched really well," Evan Longoria said. "We got off to a good start offensively with the runs and then he settled in. ... Traditionally against us, if he's able to settle in, he's gotten better as the innings go on. He did it again. He was able to kind of settle in and get into the rhythm of the game and kind of shut us down offensively after that."
Unlike Dickey, Rays starter Jeremy Hellickson started off really strong, tossing a perfect three frames to open the game, but then cracked in the fourth inning.
Hellickson allowed a leadoff single to Jose Reyes to begin the frame. After Reyes moved to second on a sacrifice bunt, Moises Sierra drove in Toronto's first run with a single down the first-base line to open up what would become a four-run inning.
Anthony Gose drove in the second run with a lazy fly-ball single that landed just in front of a charging Sam Fuld in center field to knot the game at 2.
Then, with runners on the corners, Ryan Goins drove in two more with a single to center field that went underneath the glove of Fuld and all the way to the wall. Both Sierra and Gose scored, with Goins eventually being thrown out at the plate by Ben Zobrist and being denied an error-aided inside-the-park home run.
It was a strange play, and part of a tough couple of innings for the Rays, who committed a season-high three errors in the game.
"I charged it hard trying to be aggressive and looking to throw the guy out," Fuld said. "I don't know, I think I just took my eye off of it a second too early. ... You can't really imagine a worse scenario as an outfielder."
"That doesn't happen too often to them," Gibbons said of the Rays' defensive woes on Friday. "That's one of their strengths, they have great pitching and they're a great defensive team. ... That's an aberration [for them, but] that happens in baseball."
Those runs, however, ended up being the deciding factor in the game, as Toronto continues to play a heavy hand for its division rivals. The Blue Jays eliminated the Orioles on Tuesday, and all but ensured the Yankees' destiny last week.
Now they'll once again have a say in the hopes of the Rays, who fell into a tie with the Indians for the top AL Wild Card spot, with the Rangers just one game back.
"We're just going out there every day playing hard," Goins said. "We're not going to give games away right now, so we have a nice chance to play spoiler here at the end and it's going to be fun."
Evan Peaslee is an associate reporter for MLB.com. This story was not subject to the approval of Major League Baseball or its clubs.