Cubs' plans to play spoiler's role not in Cards
Cubs' plans to play spoiler's role not in Cards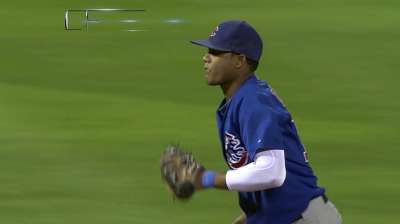 ST. LOUIS -- Travis Wood reached a milestone in his final start but couldn't stop the Cardinals from celebrating.
For the third time in five games, the Cubs watched another team spray champagne. Yadier Molina drove in three runs and David Freese and Matt Holliday each hit solo home runs to power the Cardinals to a 7-0 victory on Friday night at Busch Stadium and their first National League Central title since 2009.
Last Sunday, the Braves partied at Wrigley Field after their win over the Cubs secured the NL East, and the next day, the Pirates earned a playoff berth with a victory in Chicago.
"You can get something out of it, the guys who have never seen a celebration," Cubs manager Dale Sveum said. "I've already seen it and I don't like watching celebrations if I'm not involved."
Lance Lynn struck out eight of the first 11 batters he faced, and finished with nine strikeouts over six innings for the win, which was the Cardinals' 95th of the season and their most since 100 victories in 2005.
Wood entered the game with 199 innings, and Sveum said the plan was to have the left-hander pitch one inning and that would be enough. The team felt Wood had thrown enough pitches this season, and totaled enough innings.
"He can get that milestone out of the way and he doesn't have to prove anything else," Sveum said.
What they didn't predict was the Cardinals batting around in the first. Wood retired the first two batters, helping himself by catching Carlos Beltran's popup near the Cardinals dugout for the second out. He then gave up three straight hits, including a line drive to left that Brian Bogusevic just missed. Molina smacked a two-run double, then Freese walked, and Jon Jay followed with a RBI single. Wood intentionally walked Pete Kozma and then struck out Lynn.
"Plays are going to happen, plays aren't going to happen," Wood said. "I had plenty of opportunities after that play to get out of it. I had two lefties to get out and several other batters. When you get two outs of the first two hitters, and then face the nine, that's on me."
Wood has been the most consistent pitcher on the Cubs, leading the team with 24 quality starts.
"That was a shame," Sveum said of the first inning. "It kind of makes you want to throw up. Two outs, nobody on and all that happens. It's too bad. I thought he had one [heck] of a year and was as good as the top 10 guys in the league if not better than that. For what he's done for our team, it's a shame how that all turned out. It just made you want to puke."
This is not only the first season Wood has reached 200 innings, but the first time he's been on a big league roster from Opening Day until the finish. He joins teammate Jeff Samardzija (207 2/3 innings) at the 200 mark, and they are the first Cubs teammates to do so in a single season since Ryan Dempster and Ted Lilly in 2008.
The Cubs told Wood they were going to limit him a few days ago.
"They could've shut me down," Wood said. "For them to give me the opportunity to at least start the game and get that 200th inning was huge, and I thank them for it."
Despite the loss, Wood still finished with career highs in wins (9-12), starts (32), innings pitched and strikeouts (144).
"You can always do more," the lefty said. "The record wasn't what I wanted it to be and the team's record wasn't what I wanted it to be. There's always stuff to improve on."
"I knew he was capable of it. I knew he had what it takes," Cubs catcher Dioner Navarro said. "It's a great accomplishment. He's got a great future ahead of him. He's got a great career ahead of him. He's going to be just fine."
Brooks Raley took over in the second for Wood, and Freese led off the third with his home run to open a 4-0 lead.
In the fourth, the Cardinals had runners on first and second, and took advantage of an error to score when Holliday walked. Navarro thought home-plate umpire Brian Knight called a strike, not a ball, and was in between on his throwing motion. He fired the ball to Donnie Murphy at third, and the throw sailed over the leaping infielder into left field for an error. Another run tallied on Molina's fielder's choice.
Holliday connected off Blake Parker with one out in the sixth for his 21st homer of the season. The Cardinals' party started after Darwin Barney grounded out to end the game. St. Louis needed the win to clinch the division.
"You never want to drag this out," Jay said. "As soon as you can take care of business, you want to take care of business and we were able to do it tonight."
At least the Cubs don't have to witness any more champagne popping this season.
"You get tired of it," Wood said, "but at this time of year, somebody's got to clinch against somebody. Unfortunately, we've been the team a couple times. Hats off to them. Everybody that's clinched has been an outstanding team."
Carrie Muskat is a reporter for MLB.com. She writes a blog, Muskat Ramblings, and you can follow her on Twitter @CarrieMuskat. This story was not subject to the approval of Major League Baseball or its clubs.