Lee's one mistake puts Phils on wrong side of duel
Lee's one mistake puts Phils on wrong side of duel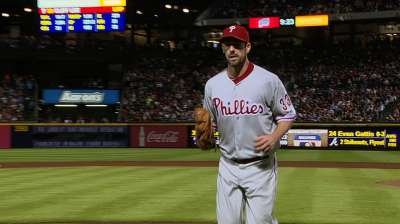 ATLANTA -- Cliff Lee delivered the type of performance Friday the Phillies expected when they signed him to a five-year, $120 million contract in December 2010.
But this start did not come in the thick of a pennant race. This start came with two inconsequential games remaining in the Phillies' first losing season since 2002. Lee worked masterfully in eight innings in the final start of his season in a 1-0 loss to the Braves at Turner Field. He struck out six consecutive batters at one point -- one short of tying Steve Carlton and Curt Schilling for the franchise record -- and struck out 13 batters overall.
In the end, it was just another frustrating loss at the end of another frustrating season as Lee's opportunities for meaningful baseball games shrink by the year. He has thrown 433 2/3 innings over the past two seasons and none have come in the postseason.
That's a lot of wasted bullets.
"I am getting up there in age," said Lee, who lost the World Series with the Phillies in 2009 and Rangers in 2010. "I'm 35 years old now and when this contract's over, I plan on going home, so I'm running out of opportunities. All I can control is what I can control, and I'm going to do everything I can to help us win. That's all I know how to do."
So, Lee doesn't see himself playing beyond this contract? It expires following the 2015 season, unless a club option is exercised for 2016.
"Right now, I don't," he said. "There are a lot of things that can happen between now and then, but I just know that my kids are 12 and 10 and I've basically missed the first half of their lives. I'm financially able to shut it down, so … that's how I feel right now. But when the time comes, I might look at it differently. I also want to finish being good, not struggling and fumbling through at the end. I want to finish strong and take it to the house. Next year, I want to win a World Series, then another one, then another one and take it to the house. That's what I'm wanting to do."
Lee finished this season 14-8 with a 2.87 ERA, which is 10th in baseball. He became the first pitcher in baseball history to strike out 50 or more batters with one or no walks in a calendar month. He struck out 54 and walked just one in 39 innings in September.
He was one of the few bright spots in an otherwise forgettable year.
"What gives me hope is the fact that this has been a winning organization for quite a while and you've got to expect the front office to make moves and do everything they can to keep that going," Lee said. "We've still got some key guys coming back that have been injured with [Ben] Revere and [Ryan] Howard. KK [Kyle Kendrick ] finished the year hurt. [Roy] Halladay, if they bring him back. We had a lot of guys that weren't able to help us like they normally would."
Lee will join Cole Hamels atop next season's rotation. After that, who knows?
Cuban right-hander Miguel Alfredo Gonzalez figures to be in there, or else why would have the Phillies signed him to a three-year, $12 million contract? Kendrick, who is eligible for salary arbitration, could be back, too. Phillies manager Ryne Sandberg hinted at the possibility when asked about next season's rotation.
"That's a good place to start," he said about Lee and Hamels before the game. "Have KK in the mix. And then some decisions have to be made from there."
Lee's only take-back pitch came in the eighth, when he threw an 0-2 slider to Chris Johnson, who belted the pitch to left-center field for a solo homer. The pitch actually was down and in, but Johnson still got it.
"I can't tell you how tough those at-bats are," Johnson said. "No part of me was trying to hit a home run on that swing. I was just trying to keep my swing short and I got my barrel to it."
The Phillies' offense offered Lee no help, which has been the case much of the past two seasons. Braves right-hander Kris Medlen had a no-hitter going until Cesar Hernandez reached on an infield single with two outs in the sixth. Medlen allowed just two hits in eight innings. He walked two and struck out seven.
The Phillies have scored just 19 runs in their last nine games and have not homered in that span, which is their longest drought since an 11-game homerless streak in 1989.
The Phillies have lost eight of nine. They are limping to the end, while Lee is pitching his best.
It's the type of run Lee would love to carry into October.
"It's still a pride thing," Lee said. "You've still got to go out there and do your job and do everything you can to win. I know we're out of it, but it's not over till it's over. Out of respect to the game and to my teammates, I've got to go out there and play like it means something. I don't know how else to do it."
Todd Zolecki is a reporter for MLB.com. This story was not subject to the approval of Major League Baseball or its clubs.