Red Sox's rout clinches ALDS home-field advantage
Red Sox's rout clinches ALDS home-field advantage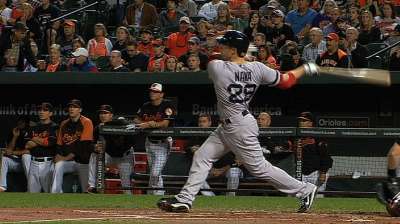 BALTIMORE -- The best sight of Friday night for the Red Sox was seeing Clay Buchholz walk off the mound after a solid seven innings.
In leading Boston to a 12-3 victory over the Orioles, Buchholz wasn't as dominant as he's been on many other occasions this season. But the key to this one was building his endurance back up before the postseason.
For the first time since coming off the disabled list, Buchholz pitched seven innings. And the 113 pitches represented his highest total since May 22.
It was the 97th win for the Red Sox, their most in a season since 2004. And it had October implications.
The Red Sox are now assured of opening the American League Division Series at home on Oct. 4.
"I think it speaks volumes for the team that we have, the way they've performed as a group throughout the course of this year," said manager John Farrell. "We've still got two more games to play and just because we've put ourselves in one position, it doesn't change our approach in coming back here tomorrow night."
Either one Boston win or Oakland loss during this final weekend of the regular season will give the Red Sox home-field advantage throughout October.
"We're not taking anything for granted," said Red Sox slugger David Ortiz, who belted his 30th home run. "We'll try to keep on rolling. Starting at home is great, especially in the playoffs when you have all the crowd behind you."
Buchholz finished the regular season with a 12-1 record and a 1.74 ERA.
"That's only half [a season]. I don't think [the stats] count," quipped Buchholz. "It's definitely a fun season for me being out there, whenever I was able to go out and pitch. It doesn't happen like that all the time or nearly ever. I've got to take it for what it's worth, but a lot of hard work went into it, and I feel like, whenever I'm good and healthy, I can help this team win."
This was Buchholz's fourth start after missing three months with a strained right bursa sac.
"I'm ready to go physically," said Buchholz. "It was a little bit of a grind out there today. I didn't have the best stuff out there. Yeah, that's just the way it goes sometimes. But I feel like everybody is ready to go.
"It's a neat time of year to be around, knowing that your season is going to be extended. Now it's just a waiting game to see who we'll play, when and where, and I think it's going to be a lot of fun for us."
Coming off a 15-run outburst last Wednesday in Colorado, the day off did nothing to slow down the Boston bats.
Ortiz's three-run homer to left put the game out of reach in the eighth. For Big Papi, it marked the seventh 30-30 season of his career, and first since 2010.
The only other player in Red Sox history to have seven 30-30 seasons? Ted Williams.
"It's a huge honor for myself to be mentioned with one of the greatest that ever played the game in this organization," said Ortiz. "Got to keep the line moving and try to keep on producing for this ballpark."
Dustin Pedroia and Jonny Gomes both had three-hit nights. Ortiz, Daniel Nava, and Stephen Drew each had a pair of hits.
The Red Sox came out blazing against O's starter Scott Feldman. Pedroia and Ortiz belted one-out singles in the first and Mike Napoli, fresh after a four-game break, smashed an RBI double to right-center. Nava followed with a three-run homer. Drew's RBI triple gave Buchholz a 5-0 lead before he even threw a pitch.
There was more where that came from in the third. Nava and Gomes started the rally with one-out singles.
Then, Jarrod Saltalamacchia hit one to deep right that was originally ruled a three-run homer. However, after reviewing it on replay, the umpires correctly saw that the ball landed on top of the wall, but below the short railing that separates the stands. It was instead an RBI ground-rule double.
That gave Saltalamacchia 40 doubles, the most in a season by a Red Sox player whose primary position is catcher.
"It means a lot," said Saltalamacchia. "Just be mentioned in the same category as Fisk and 'Tek, it means a lot, especially knowing 'Tek as well as I do and knowing what he's been through and what he's accomplished. Just to kind of be in that same category as him is something I'm going to remember and cherish, for sure."
Drew followed with a two-run single and Buchholz had an 8-0 cushion.
"Just glad the team could score all those runs to where there wasn't a whole lot of stress in the outing today," said Buchholz. "You want to get them back in the batter's box as soon as possible when that happens."
Adam Jones unloaded for a two-run homer in the third inning and Chris Davis hit his 53rd blast in the sixth, slicing Boston's lead to five runs.
Gomes came through with a solo shot in the ninth for Boston's final run.
Ian Browne is a reporter for MLB.com. Read his blog, Brownie Points, and follow him on Twitter @IanMBrowne. This story was not subject to the approval of Major League Baseball or its clubs.