Mets hand out Minor League awards
Mets hand out Minor League awards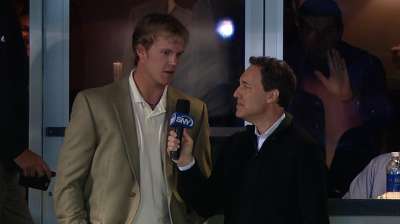 NEW YORK -- Through the struggles the Mets encountered this season, there's always been a focus on the future. With a Minor League system filled with promising young talent, the organization has made it clear it expects to contend sooner rather than later.
A group of the top Minor Leaguers in the Mets' system gathered at Citi Field on Friday. They were honored as the winners of the 2013 Sterling Awards, given to the Most Valuable Player for each of the organization's nine Minor League teams.
The Sterling Minor League Organizational Co-Players of the Year are Allan Dyskstra, a first baseman who spent this season with Double-A Binghamton, and catcher Kevin Plawecki, who split this season between Class A St. Lucie and Class A Savannah.
The Sterling Organizational Pitcher of the Year is Gabriel Ynoa, who went 15-4 with a 2.72 ERA with Class A Savannah. The right-hander struck out 106 in 135 2/3 innings.
Two pitchers who will look to follow in Matt Harvey and Zack Wheeler's footsteps won Sterling Awards for their respective affiliates. Rafael Montero won for Triple-A Las Vegas, and Noah Syndergaard won for Double-A Binghamton. Syndergaard shared the award with pitcher Jeff Walters, who saved 38 games for Binghamton, a franchise record. Syndergaard is the Mets' top-ranked prospect, Montero is third, Plawecki is 10th and Ynoa is 18th.
With St. Lucie and Binghamton, Syndergaard went 9-4 with a 3.06 ERA. The right-hander had 133 strikeouts in 117 2/3 innings at both levels.
"My fastball command was pretty good for the most part, and I improved my curveball drastically," Syndergaard said. "One thing I need to work on is developing my changeup."
Outfielder Dustin Lawley won for Class A St. Lucie, infielder Jayce Boyd (20th-ranked prospect) won for Savannah, pitcher Robert Gsellman earned the award for Class A Brooklyn, and pitcher Robert Whalen won for the Rookie league Kingsport Mets.
Dominic Smith, the Mets' first-round pick in June's First-Year Player Draft and seventh-ranked prospect, won for the Gulf Coast League Mets. After being drafted and joining the Mets' system, Smith said the biggest adjustment was playing every day. He only played twice a week at Serra High School in California, so the change was drastic.
"That's the biggest thing. Just playing every day. It's hard. It's tough. It sounds easy, it sounds fun," Smith said. "When you actually get to do it and the toll it takes on your body, it's really tough. Once I got accustomed to that, everything went smoothly."
In 48 games with the GCL Mets, Smith hit .287 with three home runs and had a .384 on-base percentage.
Outfielder John Mora won the Sterling Award for the Dominican Summer League Mets I, while pitcher Jose Medina won for the Dominican Summer League Mets II.
Mets manager Terry Collins spoke highly about the young talent in the organization. All of these prospects just need to be refined, and continue to develop as they climb through the system.
"The future is bright," Collins said. "There's light at the end of the tunnel here. It starts with that pitching."
Chris Iseman is an associate reporter for MLB.com. Anthony DiComo is a reporter for MLB.com. Follow him on Twitter @AnthonyDicomo. This story was not subject to the approval of Major League Baseball or its clubs.