Three home runs back Gallardo in win over Mets
Three home runs back Gallardo in win over Mets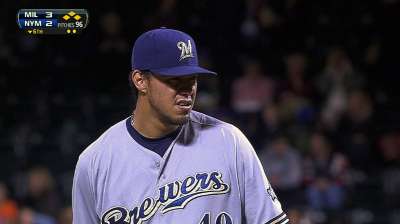 NEW YORK -- If Yovani Gallardo can begin next season like he ended this one, the Brewers will feel a lot better about their chances in the National League Central.
Gallardo capped his strong finish with six strikeouts in six quality innings and was backed by a trio of home runs in a 4-2 win over the Mets on Friday at Citi Field, a victory that ensured Milwaukee would avoid what would have been its first 90-loss season since 2004.
It was the 17th quality start of Gallardo's mostly trying season, which began with diminished velocity and a drunk driving arrest in April and a 7.28 ERA and a hamstring injury in July. But Gallardo returned from the disabled list in mid-August to go 4-1 with a 2.41 ERA in his final eight starts.
"The year didn't start out the way I wanted it to. I wasn't consistent," Gallardo said. "But being on the DL for those two weeks, it kind of lets you reset. You kind of have a fresh start. Ever since then, I've been feeling good."
Manager Ron Roenicke was feeling good, too. Gallardo has started four consecutive Opening Days for the Brewers, and even if that honor goes to Kyle Lohse in 2014, Gallardo will be a key to the Brewers' comeback from their fourth-place finish this year.
After going 8-9 with a 4.91 ERA through the end of July, Gallardo, 27, finished the season 12-10 with an ERA of 4.18 in 31 starts.
"We count on 'Yo,'" Roenicke said. "He's not a guy that I have a question mark about, so it's really important for him to finish well and know that next year, coming into the season, that we're going to get the same guy we've been used to for all the years. Somebody to be the guy you can count on, every time that he's out there, that you have a good chance to win the ballgame."
Earlier this season, there were questions about what was ailing Gallardo. Legitimate questions, even though Gallardo insisted he was fine physically.
"From when he came back off the DL, I don't have those questions anymore," Roenicke said. "Whether it's rhythm, whatever it is, he is commanding the baseball so much better than he was early. I know his arm felt fine, he said he didn't have any issues with it, but somehow he got out of whack, whether it was ramping up too early in Spring Training to try to get ready for the [World Baseball Classic], and then having to kind of backtrack a little bit and shut it down, then ramp it up for the beginning of the season."
On Friday, working with an outstanding curveball and consistent command, Gallardo wiggled out of a sixth-inning jam to allow two runs on seven hits and a walk. He fell short of the 200-strikeout plateau (144) for the first time since 2008, when knee surgery limited him to four regular-season starts, but Gallardo's six K's against the Mets gave him 1,080 in his career -- one shy of fellow Mexican Teddy Higuera for second on the Brewers' all-time list. Ben Sheets leads with 1,206.
The final out of Gallardo's outing was its most dramatic. With the bases loaded in the sixth inning and one run already in -- cutting the Brewers' lead to 3-2 -- Daniel Murphy broke for home when Gallardo bounced a curveball that rolled away from Martin Maldonado. Maldonado retrieved the ball only to see Murphy leap over both the catcher and home plate. Maldonado tagged him out to end the threat.
"At that point, I know it's going to be my decision, no matter what," Gallardo said. "We're going to win the game there or lose the game there. I just made pitches."
Said Roenicke: "It was really good to see him finish up that way, and also really good to see him get out of that last inning. I really didn't want to go get him."
Gallardo's strong finish gave him some needed peace of mind going into the offseason.
"Of course," Gallardo said. "We all want to finish strong, especially if it's been a tough year. That was the goal whenever I came off the DL -- just be consistent every five days for the rest of the year."
The Brewers led throughout. Norichika Aoki hit his second career leadoff home run and Khris Davis added a two-run homer in the first, and Maldonado added a solo shot in the seventh to help boost the Brewers' record to 73-87 with two games to play.
Davis left with a tight hamstring and strained quad in the eighth inning, but Roenicke did not deem those ailments serious.
Mets starter Carlos Torres took the loss after allowing three runs on four hits and a walk in six innings, with seven strikeouts. He allowed no runs and only two hits in his final five innings and, like Gallardo, threw an even 100 pitches.
"They always say that if you're going to get after a starting pitcher, it's early in the game," Torres said. "Aoki, I went in with a cutter but I threw it for a strike instead of off the plate because I was behind in the count, and he took advantage of that. It was right in his wheelhouse."
Gallardo will be a cheerleader the rest of the way, ensured of leading Brewers pitchers with 12 victories this season.
"The way the year started, I didn't pitch well the first 2-3 months of the year and to come back and be able to achieve that, it's a positive note," Gallardo said.
Adam McCalvy is a reporter for MLB.com. Read his blog, Brew Beat, and follow him on Twitter at @AdamMcCalvy. This story was not subject to the approval of Major League Baseball or its clubs.