Torres pitches well, but Mets fall to Brewers
Torres pitches well, but Mets fall to Brewers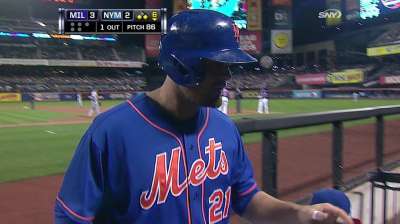 NEW YORK -- There are two schools of thought regarding the final days of another losing season for the Mets, two ways to analyze each win and loss. Fans can look at Friday's 4-2 loss to the Brewers as a bona fide defeat, for example, or they can consider it a blessing in disguise.
That is because every loss -- particularly every defeat to a team below them in the league standings, such as the Brewers -- brings them closer to a protected top-10 pick in next year's First-Year Player Draft. That, in turn, makes them more likely to pursue the top free agents available this winter -- outfielder Shin-Soo Choo and the like.
So while the Mets, from their general manager to their manager, and on down, have stressed the importance of winning as much as possible down the stretch, the benefits of losing are hard to ignore.
Following a lengthy flirtation with winning baseball, the Mets finally are losing now, dropping two straight to the Brewers at Citi Field after winning five of their previous six. Friday's defeat had roots in the first inning, when Norichika Aoki led off the game with a homer and Khris Davis added a two-run shot against Mets starter Carlos Torres.
"They always say that if you're going to get after a starting pitcher, it's early in the game," said Torres, who underwent a series of X-rays, which were negative, after Davis hit a comebacker off his foot in the third inning. "Aoki, I went in with a cutter, but I threw it for a strike instead of off the plate because I was behind in the count, and he took advantage of that. It was right in his wheelhouse."
Torres settled down from there in his final outing of the season, striking out seven in six innings of a quality start. But Martin Maldonado hit the Brewers' third homer of the game off Scott Atchison in the seventh, sealing Milwaukee's victory.
It was the Mets' 47th loss in 79 home games, good for a .405 winning percentage at Citi Field. Compare that to the road, where the Mets finished 41-40 (.506).
"This is a tough park to hit in," manager Terry Collins said. "We've looked at a lot of stats, a lot of numbers, and our numbers are not good here. But neither are our opponents'. You've got to be able to hit the baseball. You've got to be a pretty good offensive player to play in this park and put up decent numbers. This is a tough place to hit."
As if to prove that, the Mets finished with only eight hits, six of them singles. Facing Brewers right-hander Yovani Gallardo, they mustered runs on Juan Lagares' sacrifice fly in the second and Justin Turner's RBI infield single in the sixth. Though the Mets followed Turner's hit by loading the bases with one out, they could not score again off Gallardo, and Murphy was thrown out at the plate to end the threat.
"It was really good to see him finish up that way, and also really good to see him get out of that last inning," Brewers manager Ron Roenicke said of Gallardo. "I really didn't want to go get him."
Added Collins: "You look up and we've got eight hits. [We] out-hit them, but a good poker hand -- six singles and two doubles gets beaten by three homers anytime."
And so the Mets fell back down in the standings, drawing them closer to a protected first-round Draft pick. Last January, the fact that they owned an unprotected pick worked against them in their pursuit of free agent outfielder Michael Bourn, who ultimately signed in Cleveland. Major League rules stipulate that teams must forfeit their first-round pick to sign any free agent who received a qualifying offer from his former team, unless the signing team owns a protected top-10 pick. Teams generally reserve qualifying offers for their top free agents, such as Choo.
Anthony DiComo is a reporter for MLB.com. Follow him on Twitter @AnthonyDicomo. This story was not subject to the approval of Major League Baseball or its clubs.