Segura could return as soon as Saturday
Segura could return as soon as Saturday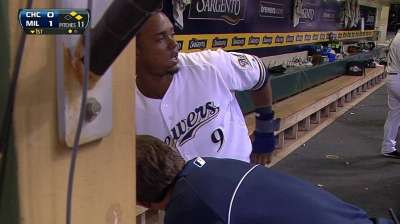 NEW YORK -- Jean Segura's strained hamstring has healed, and he has a chance to return to the Brewers' starting lineup on Saturday, manager Ron Roenicke said.
"I think he will," Roenicke said on Friday afternoon, after Segura's encouraging running drills at Citi Field. "I think he'll be available today, and then we'll see if we can get him out there [Saturday]."
Why risk it with a player so important to the Brewers' future?
"They don't feel it's a risk," Roenicke said. "The medical staff feels that he is 100 percent, ready to go."
Segura has not played since Sept. 18, when he strained his left hamstring scoring a first-inning run against the Cubs. He is hitting .296 with 12 home runs and 49 RBIs, and is tied with the Mets' Eric Young Jr. for the National League lead with 44 stolen bases.
Segura was well enough to attempt stealing a base if the option presented itself on Friday, Roenicke said. It didn't.
On a separate note, Segura and general manager Doug Melvin each said Friday that they had talked, and Segura will not play winter ball in the Dominican Republic, where he is the reigning batting champion. The Brewers want him to rest after playing, as he has not except for about two and a half months since February 2012. He has more than 600 plate appearances this season.
"My point, I wish [he could play], but their point, they're looking at the future and it's better for me," Segura said. "I have some people over there who want to watch me play, they want to see me on TV. I love playing over there."
He will rest instead. Over the winter, the Brewers may resume conversations with agent Joe Klein about a multi-year contract. Klein was at Miller Park during the Brewers' final homestand.
"We just said we would possibly revisit it in the offseason," Melvin said. "We approach guys -- some do it and some don't. It's up to them."
Adam McCalvy is a reporter for MLB.com. Read his blog, Brew Beat, and follow him on Twitter at @AdamMcCalvy. This story was not subject to the approval of Major League Baseball or its clubs.