Francona opts to go with closer-by-committee
Francona opts to go with closer-by-committee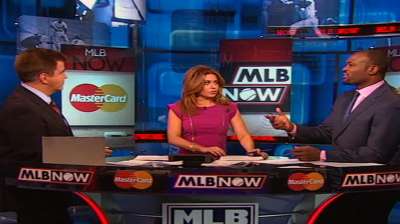 MINNEAPOLIS -- The Indians are moving ahead without a defined closer. Chris Perez has been removed from that role for the time being, and Cleveland will go with a closer-by-committee while trying to secure an American League Wild Card spot this weekend.
Setup man Joe Smith does not have any issues with the club having no true closer.
"It doesn't matter," Smith said. "All that matters now is getting outs and getting to the playoffs."
Manager Terry Francona announced his decision to pull Perez from the job on Friday, one day after the hurler nearly cost Cleveland a win in Minnesota by surrendering four runs on four hits before being lifted in an eventual 6-5 victory.
Francona indicated that -- at least for the remainder of the regular season -- a variety of relievers could be used in the ninth, depending on how the game develops. He named Smith, Cody Allen, Bryan Shaw and Justin Masterson as possibilities.
Prior to Friday's game, Francona spoke with each pitcher involved.
"I don't want that phone to ring and have somebody be surprised down there," Francona said. "You certainly could [see Smith in the ninth], but you could also see him before. The one thing I told Smitty is that I don't want to potentially lose a game waiting to get to him when he's our best option earlier.
"The one nice thing, this time of year, there are no egos. You just put your seatbelt on and go find a way to win."
Dating back to Aug. 1, Perez has a 7.52 ERA, .345 opponents' batting average and 1.87 WHIP over 20 1/3 innings, a span in which he has surrendered 30 hits, including seven homers. That is in stark contrast to the first four months of the season, when he had a 2.41 ERA to go with a .206 opponents' average across 33 appearances.
Perez, who has 25 saves, missed roughly a month between May and June due to an injured right shoulder.
"Whether he'll say it or not, he probably hasn't been healthy this entire year," Masterson said. "It's unfortunate. He's pushing through whatever he's got going. It's admirable. But he wouldn't tell us anything. He's that type of guy. He's going to do his thing and get after it, and if he doesn't do it, he accepts how it comes."
Perez has not conducted interviews with local reporters for several months but was approached on Friday to see if he would consider ending his media silence.
"Nope," replied Perez, who has 124 saves in his career with Cleveland.
It is not clear when Perez might be given a chance to save another game for the Tribe.
"How we use him, we're not sure," Francona said. "We want to get him back to helping, because he's got a bunch of saves. You don't just give up on that."
Jordan Bastian is a reporter for MLB.com. Read his blog, Major League Bastian, and follow him on Twitter @MLBastian. This story was not subject to the approval of Major League Baseball or its clubs.