Prompted by circumstance: Pettitte gets final ovation
Prompted by circumstance: Pettitte gets final ovation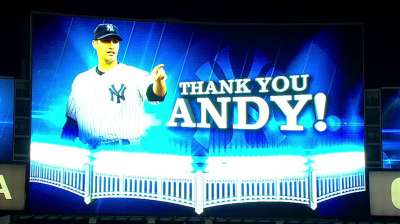 NEW YORK -- The chants, guttural and growing in intensity, had already worked their magic once before on Thursday to summon Mariano Rivera from the bullpen in the eighth inning. Now they were trying to draw Andy Pettitte out for his final Yankee Stadium moment.
Pettitte heard his name rhythmically echoing throughout the ballpark, but he figured that his ovations had already come: on Sunday, his final Stadium start, and again this week in a pregame ceremony. Pettitte had wanted a chance to thank the fans, and he had done so.
But the fans insisted upon one more ovation, and they had an important supporter in the visiting dugout. Pettitte soon realized that Rays manager Joe Maddon was holding his team back from taking the field for the bottom of the ninth inning, refusing to do so until Pettitte acknowledged the crowd.
"The guys on our bench started saying, 'You've got to go out,' and, 'the Rays aren't going to go out,'" Pettitte said. "I looked over at their bench, and they were all saying, 'Get out there or we're not going out.' It was just great."
The ovation capped an emotional evening in which Pettitte and Derek Jeter went to the mound to retrieve the baseball from Rivera in the all-time saves leader's final Yankee Stadium appearance.
"I don't need anything else," Pettitte said. "I just feel so fortunate to have been a part of this weekend and the last few days here. It's been incredible."
Pettitte has announced that he will retire at the conclusion of the season, and his final career start will come on Saturday against the Astros at Minute Maid Park.
The Astros will likely have a small ceremony to honor Pettitte, who pitched in Houston from 2004-06, but Pettitte said that he has already received the closure that he was unable to achieve when he retired for the first time after the 2010 season.
"For me, [Sunday] was incredible and great closure for me," Pettitte said. "This is kind of a bonus."
Bryan Hoch is a reporter for MLB.com. Follow him on Twitter @bryanhoch and read his MLBlog, Bombers Beat. This story was not subject to the approval of Major League Baseball or its clubs.