Twins' spirited rally comes up just short
Twins' spirited rally comes up just short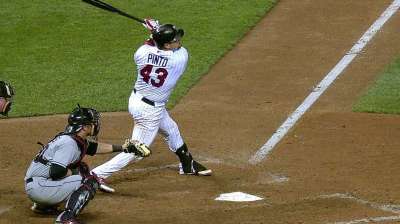 MINNEAPOLIS -- As has been the case for the Twins too many times this year, it was too little, too late on Thursday night.
The Twins rallied for four runs in the ninth but couldn't come up with one more big hit to get stuck with a 6-5 loss to the Indians at Target Field.
Pinch-hitter Oswaldo Arcia, who had been out since suffering a knee injury during batting practice Monday, came to the plate with two on and two out against reliever Joe Smith but struck out swinging on an 0-2 fastball to end it.
"We stayed in the game and got some excitement there in the ninth inning," Twins manager Ron Gardenhire said. "We liked our situation with Arcia up there. But he took the first two and swung at the last one. You'd like to see him put one in play and see what happens. But the guys kept playing, and that was nice to see. That would've been a good one to get. We just needed one more hit."
The Indians went to Chris Perez with a comfortable lead in the ninth to get him work, but he did nothing to ease Cleveland's worries about their struggling closer. He gave up four runs while recording just two outs, as Alex Presley tripled home a run and scored on an RBI groundout before Josmil Pinto delivered an opposite-field two-run blast with two outs.
Smith came in and gave up an infield single to Trevor Plouffe and walked Chris Colabello to set the stage for Arcia's at-bat but was able to pick up the save for the Indians, who remain a game ahead of the Rangers in the race for the second American League Wild Card spot.
"That didn't go as planned," Indians manager Terry Francona said. "The good news is we won, and that's what we set out to do. That got a little closer than we wanted, but we won. ... That was a little nerve-wracking."
Andrew Albers, in his final start of the season, lasted 5 2/3 innings, giving up four runs (three earned) on seven hits on two walks. The left-hander finishes his rookie campaign with a 4.05 ERA in 10 starts, but posted a 5.70 ERA over his final eight outings after opening his career with 17 1/3 scoreless innings.
"It was nice being up here but there's obviously room for improvement," Albers said. "I need to talk to Gardy and [pitching coach Rick] Anderson and see what I need to improve and work on this offseason. It was a great start to it, but I had some bumps after that, so I didn't finish the way I'd like to."
The Indians used a wild three-run fourth inning to their advantage against Albers. Ryan Raburn started it off with a single before advancing to second on a balk. Asdrubal Cabrera tried to bunt Raburn over to third and popped the ball up in front of Albers, who wasn't able to reel in the catch. Albers quickly fired to first but the ball went off Colabello's glove for a run-scoring error.
"That inning really turns if I make that play," Albers said. "It's probably a double play."
Instead, the Indians promptly capitalized, as Yan Gomes connected on a two-run blast off the second-deck facade in left field. It was the sixth homer allowed by Albers in 10 starts.
Albers ran into trouble again in the sixth, as he loaded the bases with two outs, and was removed in favor of right-hander Ryan Pressly. Pressly allowed an RBI single to Michael Brantley but struck out Nick Swisher looking to get out of the inning.
Albers outlasted right-hander Zach McAllister, who tossed 4 1/3 scoreless innings but wasn't awarded the win, as he didn't go the required five innings. McAllister exited in the fifth after giving up a pair of one-out singles to Presley and Brian Dozier to put runners on the corners.
Francona opted to go to his bullpen early, and the decision paid off, as right-handed reliever Bryan Shaw came in and was able to get Ryan Doumit to ground into an inning-ending double play on his first pitch of the night.
Cleveland tacked on in the seventh on an RBI double from Carlos Santana off Pressly, who pitched 1 1/3 innings in relief of Albers. The Indians added another in the eighth on an RBI single from Brantley off reliever Josh Roenicke.
The Twins, meanwhile, were held scoreless until the seventh inning. Doumit brought in Presley with a bloop RBI single to center to snap Minnesota's 17-inning scoreless streak.
Even with their ninth-inning rally, the Twins went just 2-for-13 with runners in scoring position on the night and fell to 4-17 over their past 21 games. Gardenhire remains two wins shy of 1,000 victories with three games left in the season.
"If it happens, it happens," Gardenhire said. "A lot of other people have talked about it, but all I care about is winning a game and seeing us shake hands."
Rhett Bollinger is a reporter for MLB.com. Read his blog, Bollinger Beat, and follow him on Twitter @RhettBollinger. This story was not subject to the approval of Major League Baseball or its clubs.