Put in early hole, Phils can't climb back for Cloyd
Put in early hole, Phils can't climb back for Cloyd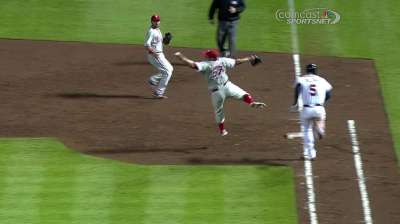 ATLANTA -- The Phillies are limping to the finish.
They showed a pulse for more than a month when Ryne Sandberg replaced Charlie Manuel as manager on Aug. 16. They won 18 of 31 games, but for more than a week it has been mostly losing baseball, including Thursday night's 7-1 loss to the Braves at Turner Field.
The Phillies have lost seven of eight, with just three games remaining in the season.
Maybe this is a tired team ready for the offseason. Or maybe the Phils' numerous issues are resurfacing, offering the front office an unfriendly reminder of the work that needs to be done.
"Well, yeah, that part of it is frustrating," Sandberg said. "I'd say four or five of those games were one-run games and could have gone either way. But, to look ahead, we have Cliff Lee on the mound tomorrow. We have a bullpen with some guys ready to back him up. We look forward to that."
Phillies right-hander Tyler Cloyd allowed eight hits, seven runs, two walks and one homer in one-plus inning to hand the Braves a 7-1 lead in the blink of an eye. Cloyd allowed 10 of the 13 batters he faced to reach base.
He is 2-7 with a 6.37 ERA in 12 appearances (11 starts) this season. He has a 15.43 ERA (24 earned runs in 14 innings) in four starts this month.
"I just wasn't executing," Cloyd said. "It was just bad. I wasn't executing any pitches, and they hit the ball hard. I wasn't doing my job."
Cloyd is in the rotation because right-hander Ethan Martin has been moved to the bullpen. Martin joined the rotation only because of an injury to right-hander Jonathan Pettibone, who made the rotation because of an injury to left-hander John Lannan.
The rotation is a big issue entering next season with question marks behind Cole Hamels and Lee.
Heck, it's a big issue this weekend. Including Thursday's loss, three of the team's final four games will be pitched mostly by the bullpen. Lee pitches Friday, but the bullpen is pitching Saturday because Roy Halladay's season is finished, and Zach Miner is pitching the season finale Sunday because Kyle Kendrick is on the disabled list with an injured right shoulder.
Sandberg has said a couple of times the past couple of weeks that starting pitching is a priority in the offseason. This stretch drives home that point.
"Yeah, depth," Sandberg said. "Even starting pitching depth. To have backups at Triple-A, let alone the starting rotation. Long guys, swing men, depth in the bullpen. And depth in the Triple-A level are a need. That is very evident right now."
Mauricio Robles spared the bullpen, throwing three scoreless innings in relief, but the 'pen was the only bright spot of the night as the Phillies looked sloppy at times, including John Mayberry Jr. getting picked off first base in the seventh.
"We got a little lax and sloppy in the outfield," Sandberg said. "The pickoff at first base, that's not good baseball. I wouldn't say it's from a lack of effort. But being down 7-0 early and the pace of the game, sometimes that snowballs. But that's no excuse either."
The offense has shouldered much of the blame in this losing stretch. Cloyd knocked in the Phillies' lone run Thursday with a groundout. They have scored just 19 runs in their last eight games. They have not homered in that stretch, their longest streak without a home run since an eight-game drought in 1996. The Phillies have not gone more than eight games without a home run since an 11-game drought in 1989.
Benito Santiago snapped the 1996 streak. Dwayne Murphy snapped the 1989 streak.
Who will break this streak? The Phillies would settle for just a win or two at this point.
"We've hit some balls hard that have been caught," Sandberg said. "You don't say, 'Everybody's tired.' I don't think that's the case at all. Guys need to battle through it. We're facing a team that is going to the playoffs. We need to make adjustments."
Todd Zolecki is a reporter for MLB.com. This story was not subject to the approval of Major League Baseball or its clubs.