Kotsay honored before final game in San Diego
Kotsay honored before final game in San Diego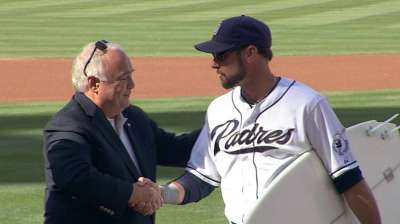 SAN DIEGO -- Playing in front of his home fans for the final time in his 17-year Major League career Thursday, Padres veteran Mark Kotsay was honored with a special ceremony prior to the club's 2013 Petco Park finale against the D-backs.
Joined at home plate by his wife and three children, Kotsay received a standing ovation from the crowd as three former teammates -- Trevor Hoffman, Mark Loretta and Phil Nevin -- presented him with a custom surfboard celebrating his career spanning three decades.
"The pregame was amazing, over the top and not expected, but it was very appreciated," Kotsay said. "It gave me and my family a lot of closure. As memorable as it could ever get."
Moments later, as the Padres were set to take the field for the top of the first inning, Kotsay jogged out to his position in left field by himself as both dugouts stood and applauded. The 37-year-old then took off his cap and waved all around the stadium before his teammates joined him for the start of the game. Throughout the ceremony, Kotsay appeared to be holding back tears.
"It's a moment I'll never forget," Kotsay said. "It was somewhat embarrassing and I felt naked. It's a team sport, we do things together and they left me alone. We'll have a talk about that on the bus ride to the airport."
The outfielder went 0-for-3 with a walk on the afternoon before exiting before the ninth inning. In his last at-bat, Kotsay had the chance to write a storybook ending to his memorable day, but with two men on in a tie game, he struck out swinging. The Padres did win, 3-2, in extra innings to cap off the festivities.
"Even striking out, I went down swinging," Kotsay said. "I've always been told you can't get off the island unless you swing; I just couldn't make contact. To win, collectively as a group though, that's what I love about baseball."
Kotsay, who announced his plan to retire at the conclusion of the season earlier this month, has three more games remaining in San Francisco against the Giants beginning Friday.
Tyler Emerick is an associate reporter for MLB.com. This story was not subject to the approval of Major League Baseball or its clubs.