Hellweg shaky, but Crew benefits from big inning
Hellweg shaky, but Crew benefits from big inning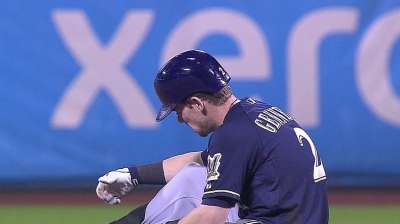 NEW YORK -- What to make of Johnny Hellweg, the towering Brewers right-hander who thrived in Triple-A, but was so mediocre in the Majors?
Manager Ron Roenicke offered a frank assessment Thursday night.
"We've got a long ways to go," Roenicke said.
Hellweg's season came to an unceremonious end at Citi Field, where he battled the same bouts of wildness that marked his other Brewers starts, and he fell short of the five innings he needed to qualify for a win. Nevertheless, the Brewers beat the Mets, 4-2, to begin the season's final series.
One of the Brewers' top pitching prospects from the moment he arrived from the Angels in last year's Zack Greinke trade, Hellweg allowed only one run and two hits, but he threw a wild pitch, walked four batters and hit two, including star third baseman David Wright in the head, causing Wright to come out of the game as a precaution. Only 37 of Hellweg's 80 pitches were strikes. Three times in his four innings, Hellweg had to strand a runner at third base.
In two stints with the Brewers that marked Hellweg's Major League debut, he was 1-4 with a 6.75 ERA and an ugly ratio of nine strikeouts to 26 walks in 30 2/3 innings, plus eight hit batsmen and four wild pitches.
But Hellweg was a force at Triple-A Nashville, where he worked on pitching to contact and went 12-5 with a 3.15 ERA in 23 starts. He was named the Pacific Coast League Pitcher of the Year and the Brewers' Minor League Pitcher of the Year.
"Second time up -- I definitely wanted to show more," Hellweg said. "There are a few positives, a couple of things I'd like to do better. That's why they give guys a chance in September and give guys a look. Hopefully, I did enough to get some more in Spring Training."
The Brewers face a big decision before 2014 Opening Day. At least one and maybe two spots in Milwaukee's starting rotation appear open, barring offseason acquisitions, and Hellweg, 25 next month, will be one of the names discussed.
Roenicke said so again Thursday.
"It's going to be interesting discussions on him," Roenicke said. "He comes into camp, certainly, with the idea that he's going to be one of the guys looking to win a job. But we also know that there is some progress that needs to be made there. At times, you see it. We certainly like his stuff. We like that he doesn't give up hits. And when he's throwing it over the plate, I don't think he's going give up a lot of runs. So he'll still be one of the guys that we're going to talk about."
Second baseman Scooter Gennett, whose two-run single capped the Brewers' four-run second inning Thursday night, saw the better side of Hellweg in Nashville.
"Once he gets ahead of guys, he's one of the best pitchers I've ever seen," Gennett said. "That's got to be his main goal -- getting ahead of hitters."
Gennett and the Brewers beat right-hander Dillon Gee and the Mets with a second-inning rally full of well-placed hits. Juan Francisco drove in the first runner with an infield single, and Jeff Bianchi followed with an RBI bloop. Three batters later, Gennett gave Hellweg some breathing room with a two-run single that made it 4-0.
But Hellweg was unable to capitalize on that cushion. He allowed a baserunner in each of the four innings he pitched and walked at least one batter in three different innings, including the third, when Eric Young walked with one out, stole second and took third on catcher Jonathan Lucroy's throwing error before scoring on a Daniel Murphy groundout.
Hellweg faced more trouble in that inning when he threw a wayward changeup that struck Wright's helmet and sent the Mets third baseman to the dirt. Hellweg's next pitch hit Lucas Duda, and Mike Baxter then walked on four pitches to load the bases. Hellweg stranded the runners with a strikeout of center fielder Matt den Dekker.
After walking the leadoff man in the fourth inning but escaping again, Hellweg's outing -- and his season -- was over.
"I didn't really show [Roenicke] I deserved to go back out there," Hellweg said. "I was ready to go back out; I wanted to. But from what I showed him the four previous innings, I couldn't argue too much for my case."
He acknowledged that plunking Wright got to him.
"That's the last guy on that team I want to hit," Hellweg said. "All I hear is good things about him; he's a good guy. You don't ever want to hit somebody in the head. It was a changeup. It was definitely mis-located. I feel awful he had to come out of the game. … I think it got to me a little bit just because, David Wright, that's their guy, and it was in the head, and he had to come out. I think that stuck with me for the next pitch or two."
Wright was also beaned in 2009, by Giants right-hander Matt Cain, and struggled for parts of two years.
"It's scary," Wright said. "I've been through that before, and this seems different than that. The last one … I was a lot less clear [after being hit by Cain], and it was a lot less painful this time."
Alfredo Figaro picked up the win with two innings of scoreless relief, and Gee fell to 12-11 with the loss. The Mets' only other run came on a Josh Satin homer in the ninth inning against Brewers closer Jim Henderson, who stranded a runner at second base to end the game.
New York batters finished 0-for-14 with runners in scoring position.
"It was an interesting evening," Roenicke said. "It just seemed that we weren't exactly on, but we still did OK."
Adam McCalvy is a reporter for MLB.com. Read his blog, Brew Beat, and follow him on Twitter at @AdamMcCalvy. This story was not subject to the approval of Major League Baseball or its clubs.