Dodgers' Hairston bothered by back spasms
Dodgers' Hairston bothered by back spasms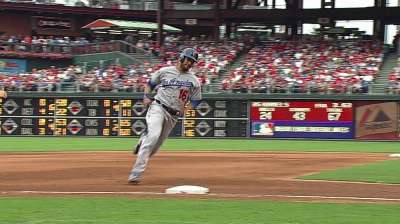 SAN FRANCISCO -- Dodgers utility man Jerry Hairston was unable to work out with the club before Thursday night's game because of back spasms.
Hairston, on the bubble for a postseason roster berth after the acquisition of Michael Young, said he felt the oncoming problem Wednesday night, when he played third base and had three at-bats, including a grounder up the middle that was scored an error on shortstop Brandon Crawford, robbing Hairston of an RBI single.
Hairston said his back hadn't bothered him earlier, although he's been slumping (0-for-19). He's hitting .321 with runners in scoring position, but only .179 as a pinch-hitter. Defensively, he's appeared at first base, second base, third base, left field and right field.
Ken Gurnick is a reporter for MLB.com. This story was not subject to the approval of Major League Baseball or its clubs.