Glass praises Selig's lasting influence on game
Glass praises Selig's lasting influence on game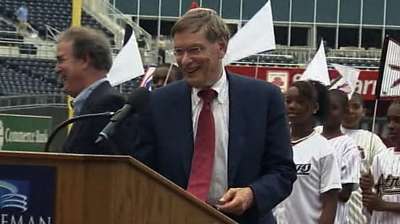 CHICAGO -- Royals chairman and owner David Glass was one of a legion of baseball voices praising Bud Selig, who announced on Thursday that he would retire in January 2015.
"Since Bud has been Commissioner, he has made a great impact on both the economics and the integrity of the game," Glass said. "His vision for the formation of MLB Advanced Media ought to be remembered as one of the most forward-thinking decisions our industry has ever known. I believe his legacy is unparalleled in professional sports."
Glass and Selig have had a long and close business relationship for many years, an important factor in bringing the 2012 All-Star Game to Kansas City.
Dick Kaegel is a reporter for MLB.com. This story was not subject to the approval of Major League Baseball or its clubs.