Ventura, Reinsdorf praise Selig's impact on game
Ventura, Reinsdorf praise Selig's impact on game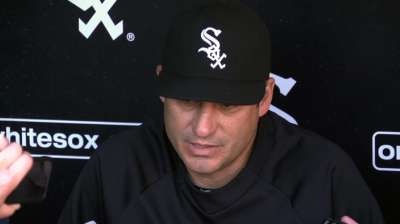 CHICAGO -- Robin Ventura knew Bud Selig as both the owner of the Milwaukee Brewers and the Commissioner of Major League Baseball. But the White Sox manager limited his praise Thursday to Selig's time as Commissioner, after Selig announced his plans to retire from office in January 2015.
"The game has grown. I think we've seen it globally get bigger and I think he's a big reason for that," Ventura said. "He's been a pretty steady influence on that.
"I don't know if there's a calling card, but again, mixing in the Wild Card, or just the way the playoffs kind of run now, to really the global stuff that has taken off. I think that's probably the stuff for me that he's been important."
Ventura said he had the chance to talk with Selig because of the Commissioner's close bond with White Sox chairman Jerry Reinsdorf and the proximity of the Brewers to the White Sox. Reinsdorf released a statement concerning Selig's vast impact on the game.
"When you step back and view the dramatic transformation Major League Baseball has undergone during Bud Selig's tenure as Commissioner, it is truly quite astounding," Reinsdorf said in the statement. "A social institution with a long and rich history like baseball is often very resistant and slow to change, yet Commissioner Selig has introduced dramatic, sweeping innovations to improve the game like expanded playoffs, comprehensive drug testing and competitive balance.
"These changes have left a lasting impact on baseball, most importantly for the fans of this great game. At his heart, Bud is a baseball fan, and that perspective has driven all he has done during his time as Commissioner. That is his legacy."
Scott Merkin is a reporter for MLB.com. Read his blog, Merk's Works, and follow him on Twitter @scottmerkin. This story was not subject to the approval of Major League Baseball or its clubs.