Lincecum, Pagan help Giants beat LA to take series
Lincecum, Pagan help Giants beat LA to take series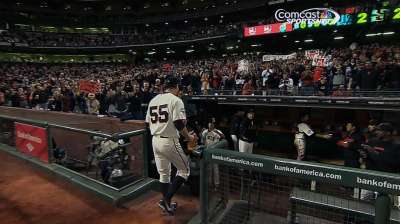 SAN FRANCISCO -- Tim Lincecum lit the pilot light, enabling the fire to return Thursday night to AT&T Park.
Angel Pagan's eighth-inning, tie-breaking homer provided the deciding run in the Giants' 3-2 victory over the Los Angeles Dodgers. That prompted the "Beat L.A." chants that must have felt like a primal scream to the supporters of a World Series champion-turned-fourth-place club.
But it was Lincecum's presence that lured people to the ballpark in the first place. The charismatic right-hander received a no-decision -- which was entirely fitting, given his uncertain future as a free agent. Therefore, this was potentially the two-time National League Cy Young Award winner's final appearance in a Giants uniform.
"It was pretty special," Lincecum said. "Just to be in that kind of situation today, you kind of really see what's going on and the emotions that are tied with it. I'm still trying to figure out how to handle it."
Lincecum gave his fans a memory to cherish by giving the Giants a chance to win. He displayed both his old mastery and his new subtlety while limiting the Dodgers to two runs in seven innings.
"I think he was pretty amped up to start with," Giants catcher Buster Posey said. "After the first couple of innings, he settled into a nice groove."
Though Lincecum pitched to contact for much of the evening, he still had enough dazzling stuff to strike out the side in the fourth inning. He also struck out Dodgers rookie sensation Yasiel Puig three times. Giants left-hander Madison Bumgarner is the only other pitcher to accomplish that feat.
Lincecum savored facing the Dodgers, against whom he has posted a 2.92 ERA, the fifth-lowest mark among active pitchers.
"It's kind of hard not to get up when you're playing that team. The fans want it as bad as we do," Lincecum said.
The fans wanted more than a Giants victory. They wanted Lincecum to step off the mound and re-sign with the club. They waved signs that bore messages such as, "Don't leave SF, Timmy" and "We love you, Timmy."
A hilarious and touching moment occurred in the fifth inning, when Lincecum executed a sacrifice bunt, provoking cheers that seemed more befitting of a home run.
"I thought that was one of the best sacrifice bunts I ever made in my life," Lincecum said jokingly.
The crowd sensed that Lincecum had pitched his final inning in the seventh, showering him with a noisy ovation when he left the mound.
"All those things are important to a franchise," said Dodgers manager Don Mattingly, whose Yankees background taught him about the popularity of legends. "You get attached to a guy. Two World Series, Tim's won a couple Cy Youngs. I'm not here a lot, but he seems like a cult figure. It's good stuff. Free agency makes it hard, it's good to see fans appreciate things he's done. That stuff is pretty cool."
Regarding free agency, Lincecum reiterated that he intends to consider his options yet indicated that he'll remain receptive to whatever the Giants might propose.
"I'm just trying to be open-minded about what's coming up," Lincecum said. "I'm a product of familiarity. I like this team [the Giants], so we'll see what happens."
Said Giants manager Bruce Bochy, "I don't know what's going to happen. But I hope he's here with us."
Lincecum's performance set up Pagan's heavy hitting. With the score knotted at 2, Pagan greeted Dodgers reliever Paco Rodriguez (3-4) by lining an 0-2 pitch down the left-field line and over the wall. Of Pagan's five homers, three have been hit in the seventh inning or later.
Pagan's drive made a winner of Santiago Casilla (7-2), who blanked Los Angeles in the eighth inning. Sergio Romo pitched the ninth for his 38th save in 43 chances.
The dramatic conclusion seemed familiar to Lincecum, who has experienced numerous thrills since joining the Giants in 2007.
"I think I've been one of the most fortunate pitchers in this organization, just to be a part of so many things, to have guys around me like Barry Bonds and Randy Johnson, the big names," Lincecum said. "Buster Posey coming up, Pablo Sandoval -- the names just don't end. To be here to witness all the things they've done, and be there for also the team things, it's been pretty special for me."
Chris Haft is a reporter for MLB.com. This story was not subject to the approval of Major League Baseball or its clubs.