Royals give young players opportunity after elimination
Royals give young players opportunity after elimination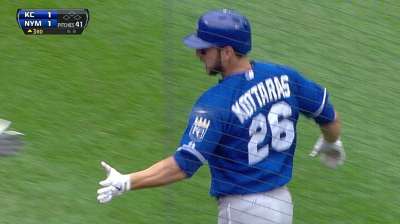 CHICAGO -- Now that the Royals are eliminated as a postseason possibility, look for manager Ned Yost to put some different faces into his lineup during the final series against the White Sox.
"We'll rest some guys now. Salvy [Perez] will get a day off [Thursday]," he said. "We'll look at it and get some of the younger guys in some of these games the next four days. Give the guys that have been here and been working hard and haven't had an opportunity to play. We'll mix them in the next four days and see if we can't win some games."
For Thursday night's series opener, he had Pedro Ciriaco make his first start at shortstop in place of Alcides Escobar and had George Kottaras catching instead of Perez. He also gave Chris Getz his first starting assignment at second base since Sept. 3 when he left a game early because of dizziness. Emilio Bonifacio had started every game at second since.
Dick Kaegel is a reporter for MLB.com. This story was not subject to the approval of Major League Baseball or its clubs.