Washington won't waver from Perez in tiebreaker
Washington won't waver from Perez in tiebreaker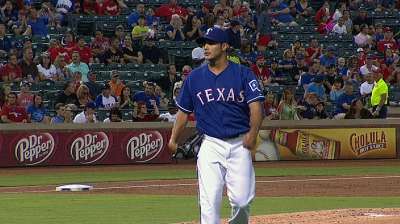 ARLINGTON -- If the Rangers would need to play a tiebreaker game on Monday to decide one of the American League Wild Card spots, Martin Perez would be in the line to make the start. Rangers manager Ron Washington doesn't plan to change that if the situation occurs.
"It's another challenge and experience for him to get," Washington said. "He deserves it, just like every other starter in there deserves it. I don't think the position we're in, if we play this out and we have that opportunity, that we can move anything around. It's got to stay the way it is."
Perez moved to 10-5 on Wednesday night, allowing three runs in seven innings against the Astros to help the Rangers remain a game behind the Indians for the final American League Wild Card spot. The rookie has pitched well since he was recalled from Triple-A Round Rock to help a battered starting rotation. Washington said the 22-year-old doesn't express his emotions as vividly now on the mound and remains composed.
"He's getting the results of his own doing, he really is," Washington said. "We have to remind him every now and then, but that's OK. I think it'll come to the point where we don't have to remind him anymore and he can be his own critic and self-sufficient. I think, in the game of baseball, that's what you try to do with players."
Master Tesfatsion is an associate reporter for MLB.com. This story was not subject to the approval of Major League Baseball or its clubs.