As '13 winds down, Baxter unsure of future
As '13 winds down, Baxter unsure of future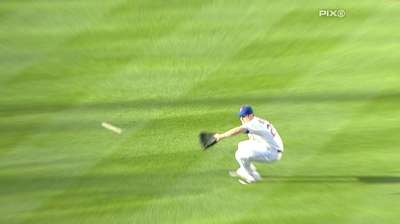 NEW YORK -- Best known for his Queens roots and his franchise-altering catch during Johan Santana's no-hitter, Mike Baxter could be approaching the end of his Mets tenure.
The thought has been weighing on him.
"You definitely think about it," Baxter said. "It's hard to say you don't think about it. I just wish I had a better year. I'm definitely frustrated with the way I played here, and it's out of my hands now."
Penciled into an Opening Day bench role with the promise of significant playing time, Baxter stumbled out to a .212 average and .616 OPS through June 9, earning a demotion to Triple-A Las Vegas. Though the Mets twice recalled him over the course of the summer, Baxter did not begin receiving regular at-bats again until this week.
"I didn't get the playing time because I didn't earn it," Baxter said. "You've got to be realistic about the situation. Looking back, the way this season went is very frustrating. But looking forward, I love playing here. I want to play here, so we've got to see. Obviously the team has to make a decision what they want to do. I'd love to be a part of their plans."
If Baxter had less big league tenure, the Mets would simply invite him to Spring Training and let him compete for a bench job. But Baxter projects to end this season with two years and 128 days of Major League service time, just above the front office's projected Super 2 cutoff. That will make Baxter arbitration-eligible for the first time, meaning if the Mets want to keep him around, they will need to pay him a fair bit more than the $500,318 his contract was worth this season.
Working against Baxter is the fact that the Mets are almost certain to import at least one starting outfielder this winter, knocking everyone else down a rung on the depth chart. But the Mets could still opt to keep Baxter around, given that most of their in-house bench options are right-handed. The exceptions are rookie Matt den Dekker, whom the Mets might prefer to see play every day in the Minors, and switch-hitter Eric Young, who is also arbitration-eligible.
The Mets did start Baxter in right field Thursday, his third straight game in the starting lineup. So if nothing else, the team is taking a hard look at him heading into the winter.
"We're sitting here looking at where these guys are going to fit next year," manager Terry Collins said. "Can they be bench players for us? Can they come off the bench and do what we expect? So we're just trying to get some guys in there and get some at-bats and see what they look like toward the end of the year."
Anthony DiComo is a reporter for MLB.com. Follow him on Twitter @AnthonyDicomo. This story was not subject to the approval of Major League Baseball or its clubs.