Niese to finish out season Sunday vs. Crew
Niese to finish out season Sunday vs. Crew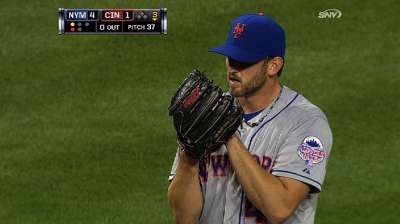 NEW YORK -- Jon Niese will start on his regular turn Sunday afternoon for the Mets, who considered scratching him in favor of Daisuke Matsuzaka against the Brewers.
"Tell my fantasy owners they can start me," Niese said.
The Mets considered shutting Niese down for the year in deference to the partially torn left rotator cuff he sustained in June. But Niese made it clear that he wanted to pitch, even if the Mets would be cautious with him Sunday.
"We've got to be smart about this," manager Terry Collins said of his Opening Day starter, who is 5-2 with a 3.00 ERA since returning from the disabled list. "If he starts that game, I know he wants to win it. But I think we've got to be smart enough to say, 'Listen, there's going to be a limit on what you're going to do."
Anthony DiComo is a reporter for MLB.com. Follow him on Twitter @AnthonyDicomo. This story was not subject to the approval of Major League Baseball or its clubs.