Konerko's HR not enough to lift Rienzo over KC
Konerko's HR not enough to lift Rienzo over KC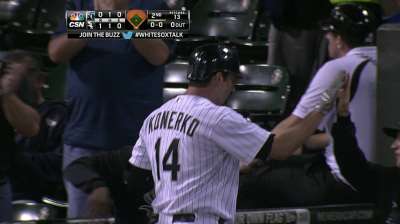 CHICAGO -- Paul Konerko plans to speak with the media about his thought process concerning what comes next in his stellar 17-year career a little more than three hours before Friday's contest with the Royals.
At some point during that extended interview session, there's a very good chance the 37-year-old White Sox captain will be asked if his homer launched in the second inning of a 3-2 loss to the Royals Thursday might stand as the 427th and possibly the last of his 15-year run with the White Sox. And there's an equally strong possibility that Konerko will politely decline to speak on that topic.
Living on speculation is not the way the cerebral and highly respected first baseman conducts his business. If there's something to say, Konerko will say it. If not, he'll probably lay out a bit of a time frame as to when a decision on whether he will keep playing might be made.
During Thursday's postgame, it was left to Robin Ventura to speculate on such a topic. And the White Sox manager handled the moment with deadpan humor to start.
"He probably plans on hitting one every day the rest of the way," said Ventura with a wry smile of Konerko. "But I think any time players kind of go through this situation, I'm sure there are some weird thoughts of the last time for anything."
Konerko's three-year, $37.5-million extension ends after the 2013 season. He would be considered as important of a figure in the White Sox organization as pretty much anyone in the past decade, but the questions to be answered are whether he wants to keep playing, does he fit into a White Sox rebuild or reshaping process and would he want to go through such a thing at this stage of his career?
Those subjects might not reach a conclusion for another month.
The more pressing team issue is avoiding 100 losses for the first time since finishing 56-106 in 1970. The White Sox (62-97) need to win once this weekend to bypass that dubious distinction, and Konerko admitted Thursday that ending with 98 or 99 losses does have a different connotation than 100 for the present and the future.
"You don't want to lose 100. You don't want to put that on the team next year," Konerko said. "Whoever is here is gonna have to answer questions about this season and just have it in the back of their minds.
"I promise you, even if we don't lose the next three we know what it feels like to lose 100. We know the feeling of what it probably feels like. I don't think we need to confirm it.
"But at the same time we have some guys and some coaches that have been on 100-loss teams and it's just not something you want on your resume, so let's try to get at least a win here," Konerko said. "Win the next three, but let's get one so we can't have anybody say we lost 100."
Andre Rienzo picked up his sixth quality start in 10 trips to the mound since joining the White Sox from Triple-A Charlotte, allowing two earned runs on four hits over six innings. He struck out four, walked one and gave up David Lough's two-run homer.
This 36th one-run loss in 59 one-run games came in familiar White Sox fashion -- a throwing error by catcher Bryan Anderson on a George Kottaras bunt allowed Justin Maxwell to come home with the game-winner. Scoreless relief from Luke Hochevar and Greg Holland (46th save) made a winner of Jeremy Guthrie and the Royals.
"They're all pushing and they all want to finish strong," Royals manager Ned Yost said. "They've got that mindset that they want to push to the end."
"Guthrie pitched well. He's done that to us before. He's been tough," Ventura said. "Besides Paulie and Adam's homers, we didn't really have a lot of opportunities."
Adam Dunn's 442-foot shot in the sixth accounted for the second White Sox run. It was his third homer in the last 23 games, while Konerko now sits six total bases away from breaking Frank Thomas' franchise record.
These final three games against the Royals might be Konerko's last three chances to hit such marks. Then again, individual accomplishments always have been outranked by team achievements during Konerko's tenure.
He is carrying a .278 September average into Friday's contest, so there's plenty of life left in his bat.
"Some better at-bats, but nothing I'm crazy about," said Konerko, who has 434 career homers. "Fighting the fight, picking up some hits here and there, but not good enough to ... Those at-bats where they could kind of go either way, not good enough in enough of those to kind of get over the hump when you have that 1-for-3 or 1-for-4.
"There's that one at-bat where you kinda got a 2-2 count, 3-2 count, you're fighting, you foul it off and then you wind up making an out because you just can't finish it off. A lot of those ones, so it is what it is."
Scott Merkin is a reporter for MLB.com. Read his blog, Merk's Works, and follow him on Twitter @scottmerkin. This story was not subject to the approval of Major League Baseball or its clubs.