Gonzalez dominant in victory over Blue Jays
Gonzalez dominant in victory over Blue Jays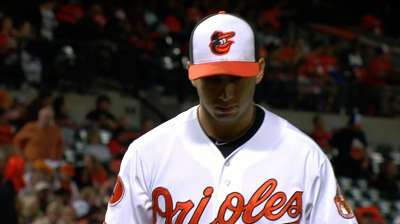 BALTIMORE -- Orioles right-hander Miguel Gonzalez turned in a fabulous finale, allowing one unearned run on two hits over seven innings and paving the way for a 3-2, series-clinching win over the Blue Jays on Thursday night.
Baltimore, which was officially eliminated from postseason contention on Tuesday, has won back-to-back games since, a source of pride for a clubhouse that fell short of replicating last season's magical ride to the American League Division Series.
The O's, who clinched their second winning season in 16 years on Wednesday, also took the season series from the Blue Jays with their 83rd win, in front of 27,498 at Camden Yards.
"You like to leave a good taste in your mouth and it's a reminder to everybody of how good he's been for us, and hopefully will be again," manager Buck Showalter said of Gonzalez, who allowed just four hits over his final two starts. "It seems like he's managed the groin pretty good, too. He pushed it a little bit there. He was going hitter to hitter that inning before. But he was good."
Gonzalez was masterful in his 106-pitch outing, as the 29-year-old continued his success against the Orioles' most important opponents, improving to 5-1 against the AL East this season with the Orioles going 8-2 in his home divisional starts.
"It was great," Gonzalez said of his game, which leaves him 11-8 with a 3.78 ERA in 28 starts. "I was commanding my fastball and my splitty. I threw enough off-speed for strikes for them swing at and we finished strong."
"That was vintage Miggy," said catcher Matt Wieters, who drove in a pair of runs, including a solo homer in the second. "Miggy's solid. He's a guy that's going to go out there every fifth day and give you a chance to win, which is all you can ask for on a team. And, he's a fun guy to catch."
Gonzalez allowed an unearned run in the first inning on outfielder Jason Pridie's fielding error, the first of two miscues for an Orioles club that set a Major League record this season with 118 errorless games. He cruised along after that, retiring 13 in a row before J.P. Arencibia's one-out double in the seventh. Gonzalez worked his way out of the potential jam, getting Ryan Goins on an inning-ending strikeout.
"Every game's a battle, but we did a good job tonight of keeping guys off the bases and we played well overall," Gonzalez said. "We did a pretty good job."
Wieters put the Orioles on the board in the second with his 22nd homer of the year, a blast to left field off Toronto starter Mark Buehrle. Wieters' sacrifice fly in the third inning helped the Orioles take a lead they would never relinquish, with Nick Markakis doubling home Brian Roberts to start the two-run inning.
Buehrle exited for precautionary reasons after taking Steve Pearce's liner off his right calf in the fourth. The veteran lefty was tagged for three runs on eight hits in a 50-pitch outing.
"I've got six months to recover, so it doesn't really matter," Buehrle said of the contusion that shortened his night. "It got me in the calf, told them to at least let me finish off the inning, but [manager John Gibbons] said there's no reason to. They got me out of there. I'm sure it will tighten up and feel a little sore, but there's nothing."
The Blue Jays pulled within a run on Brett Lawrie's eighth-inning double off Tommy Hunter, but the righty worked his way out of trouble to hold the 3-2 lead. After a pair of singles and Lawrie's one-out two-bagger, Hunter got a pair of strikeouts to strand two runners.
Jim Johnson pitched a 1-2-3 ninth for his league-leading 48th save, putting the finishing touches on the Orioles' second-to-last series of the season. Baltimore will host the AL East champion Red Sox this weekend.
"It doesn't surprise me," Showalter said of his club's intensity, despite being eliminated. "Let's face it, there's a little bit of a drop. There's some pressure involved, and it's good pressure. There's a little bit less of that. But I think they put a lot of pressure on themselves to maintain a certain level of competitiveness.
"I've had two or three questions from them today about what the mathematics are for Boston and Oakland, and I have no doubt that our guys will post up competitively the next three days. I know what it meant for us last year and this year. From an effort and attention, we'll do our part."
Brittany Ghiroli is a reporter for MLB.com. Read her blog, Britt's Bird Watch, and follow her on Twitter @britt_ghiroli. This story was not subject to the approval of Major League Baseball or its clubs.