Blanks gets breather to rest Achilles, shoulder
Blanks gets breather to rest Achilles, shoulder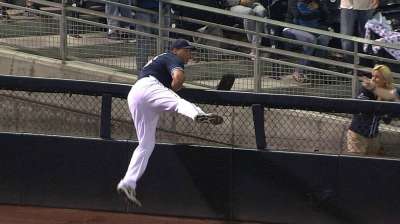 SAN DIEGO -- Hampered by nagging Achilles and shoulder discomfort, Padres first baseman/outfielder Kyle Blanks was out of the San Diego lineup Thursday for the club's home finale a day after manager Bud Black removed him from Wednesday's game in the seventh for rest and defensive purposes.
"Kyle is a little banged up but he's able to play," Black said. "I just thought today would be a good day for him to watch this one from the start and see where it ends up. There is a good chance he might be in there at some point in this game."
Blanks missed half of July and most of August on the disabled list with an Achilles injury, and he has batted .197 in 61 at-bats since returning.
"He's banged up like a lot of guys," Black said. "This time of year, there are a lot of guys that have bumps and bruises of 162 [games]."
Tyler Emerick is an associate reporter for MLB.com. This story was not subject to the approval of Major League Baseball or its clubs.