Padres impressed with Gyorko's breakout season
Padres impressed with Gyorko's breakout season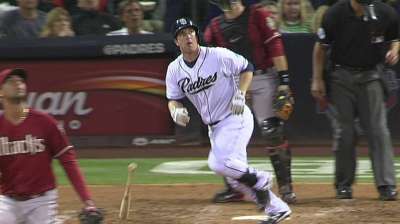 SAN DIEGO -- With 21 homers on the year, Padres second baseman Jedd Gyorko is tops in the Majors in home runs by rookies, one ahead of the Braves' Evan Gattis. What makes the 25-year-old's power even more impressive, though, is that he has done it while manning second base, a position not usually known for its players' slugging.
In fact, Gyorko's 21 blasts are tied with Alexei Ramirez's rookie campaign in 2008 for the third most in history for a first-year second baseman. Only Dan Uggla (27 in '06) and Joe Gordon (25 in 1938) have hit more. The next closest rookie second baseman to Gyorko in 2013 is Seattle's Nick Franklin with 12.
"I probably have the most at-bats too, so I should be up there in the lead, but it's satisfying to be there," Gyorko said. "We still have a couple more games left, though, and they all still count, so I'm going to go out there and try to help win them all."
While Gyorko's pop may have caught some off-guard, Padres manager Bud Black said he noticed it from the beginning of the year.
"We saw it in Spring Training -- that there is a hitter in there," Black said. "His swing, his bat speed and his hand-eye coordination are all there. I think there's room to grow, too. There are some things he can learn from this year. It's great to have a guy at that position provide offense and play defense.
"He's doing great. It's nice to be able to look at our club moving forward and looking what Jedd has done this year and think, 'He could repeat it.'"
Tyler Emerick is an associate reporter for MLB.com. This story was not subject to the approval of Major League Baseball or its clubs.